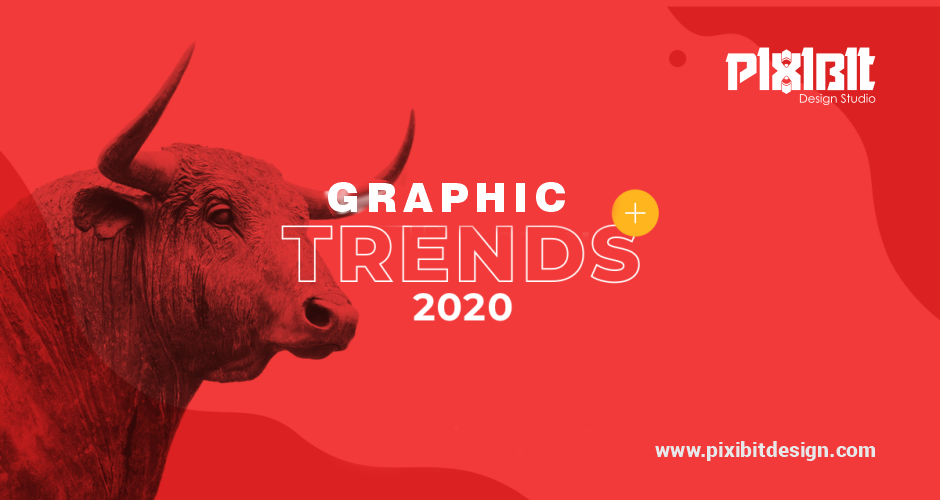 Top 10 Trends of Graphic Design in 2020
Introduction
Let us see some of the Interesting topic related to Graphic Design like What will be the Top 10 Trends of Graphic Design in 2020, Importance of Graphic Design, How Graphic Design will be useful in your business, and much more interesting topic so let's start:
It is well said: If art is a question, then a perfect graphic is the correct answer.
Graphics can be said as a combination of text and pictures that can be utilized to attract the target audience by sharing it via promotional platforms like magazines, advertisements, books, banners, etc.
The art of creating such graphics is called Graphics design, which can also be called a technique for visual communication. This is basically done by creating a visual layout to convey messages. The graphics designer applies various page layout and hierarchy techniques, typographies, and images to fulfill customer requirements.
What is the Importance of graphic design?
Graphics design is an important mode of communication, not only does it gives information to the people about anything, but it is also done in an effective manner. It provides a précised summary of the message you want to send to the people.
Generally, the audience shows lesser interest in mere text content than that of the pictorial presentation provided to them. Hence, if you send a graphics image to them, they won't ignore and have a glimpse at least once.
This can help companies boost up their sales and also get recognition of their brand in the market if their graphics are shared with more number of people. Most of the promotional campaigns showcase large banners containing a high-quality graphic image that gets caught in the eyes of a layman and he is tempted towards the purchase of the product.
Also, people tend to buy the things that stand out in case of appearance. For example, a child will always go for purchasing the product, whose advertisement contained a few animated characters. This is the impact of graphics on a customer.
How Graphic Design will be useful for your business?
It is truly said that a picture alone can convey a thousand-word message. Similarly, good graphics alone can make a thousand dollars to a company.
Starting from designing the logo of your company, to printing a pamphlet for promoting your brand, graphics does it all. So, here is how graphics designing can be useful to companies:
First Impression is always the last impression
The logo of the company is what comes under observation when people search for your company. For example, the chain restaurant, Mc Donald's, does not write its whole name in the hoardings or promotional campaigns. It simply uses its logo and one can see that there is an outlet of Mc Donald's here.
Summarize the information you want to send
Instead of writing long paragraphs, simply add summarized and precise information along with relevant but attractive images. Your work is half done!
More Creativity, Less Competition
The more attractive graphics you integrate into your flyers and pamphlets, the more is the customer reach. Hence, when a large mass gets attracted to your business, obviously the number of competitions would decrease and you will be able to focus on the growth of your business.
Also Read: Best Brochure Design Ideas That Ensure Your Product Sales
Top 10 Trends of graphic design in 2020
After discussing the importance of graphics designing in your business, let us see what trends the year 2020 has brought in the same. A few of these are described below:
Monochrome- Single color and different shades
Nowadays, the monochrome design has been popular among the world of graphic designers, which includes the usage of the same color but with different shades of it. Instead of flooding your graphics with different shades of varying colors, it has been observed that using the same color with different shades has attracted more people as compared to the usage of varying colors.
Usage of monochrome colors provides a realistic view of the graphics which gives the eyes of the viewers a sense of satisfaction. You no more have to mix various colors with each other to create some unique tone. Just pick a color of your choice and start making various shades from that.
Cyberpunk Schemes used with colors
Cyberpunk is a science and fiction related genre for choosing the color schemes, which generally includes darker colors, mostly used for featuring the futuristic themes in the graphics. For instance, these types of color genres have been used in the movie Blade Runner.
These color schemes include the hues that are saturated as well as bright, which are unusual to be seen in natural colors, to get along with the futuristic themes. So, the basic concept of the cyberpunk schemes is to make the viewers experience surreal objects that are not depicted in the actual world. The neon-based color scheme creates a pleasant experience for the eyes when included in the graphics.
Use of typographies
The use of typographies with images is the latest on-going trend in the world of graphic designers. These are used for bringing innovation and brand new compositions in the graphics to be built.
One of the typographies methods, artistic typography is used much more in graphics as compared to other types. For instance, these might be the decorations that include the images of beautiful flowers, shapes, etc. This has been combined with the maxi method of typography that was popular in 2019. The graphics also include heavy fonts and letters that we usually see on posters, banners, logos, websites, product packages, etc.
Mixing of text and images
This technique has been introduced a long time ago and has been in trend recently. Although not a newer trend, it still looks rich in the graphics when we mask a text over an image. You can fade the image in the background while adding a text to it and hence giving it an unrevealing effect for the image.
The designers have also implemented the technique of maxi typographies as well as the cyberpunk genre with the process of masking a text onto an image, proving that one can always create a futuristic theme-based graphics using typographies and masking too.
Creating collages of multiple pictures and images
This might remind us of our school days when we used to paste various irregularly shaped newspaper cuttings, articles, and pictures onto a poster-sized sheet without arranging them in a specific order. This activity was known as doodling during those days.
In the world of graphics designing too, there is a trend to create such doodles, which are of great use while conveying a comparatively larger content on the graphics, rather than just the tag lines and a few elements and shapes in the graphics. These designs are so much in trend that we can find them on almost every web page we visit.
Isometric art
Graphics illustrating the isometric art have been in trend for many years, not having a downfall in then list of top most trends and popular artworks.
Various transformations have been applied to this type of designing technique and every time the art gets updated and gets more popular with its attractiveness.
This art has been already used in the designing of infographics, web applications, presentations for the corporate world, etc. This art also enables the two-dimensional as well as three-dimensional designs to be incorporated with the graphics.
In 2020, the art has added yet another feature, viz. the motion in the graphics. This has enabled animation in the graphics design, and the days are not far when it might get possible that the audience can also interact with the 3D objects included in the graphics.
Color Selection in Vintage Style
It has been said since long that whatever is old, is gold. So is the case over here. Whatever is forgotten, introduce that as something new. The vintage themes are a new trend for the graphics designers to implement, and they get a large number of design ideas if they go through the Vintage images on the pages of history notes.
The color selection for the graphics includes sober and simple earthly colors, hand-drawn illustrations, etc. to create a look and feel as if the viewer is still in his early 70s.
Some of the products have already implemented this design technique for their packages. Apart from this, the design technique can be used for typographies, creating a brand identity as well as creating fonts on the labels. Hence, be ready for a blast, coming straight away from the past.
Street Art views
Similar to the above discussed vintage themes, the street art technique also includes elements like graffiti, retro-themed images, and fonts, taking conjure from the early 70s, punks from the 80s, and neon based theme selection from the 90s.
This type of technique can be used in designing the flyers to promote the upcoming concerts, to launch a funky product, etc.
The art of graffiti reveals the sense of freedom, for breaking the rules and protesting against the wrong deeds.
Thin geometry lines
Out of all geometrical shapes, lines can define the nature of any element included in the graphics. Straight lines can be used to depict the objects that can be based on technology, whereas curvy lines depict nature.
In 2020, the designers have come up with an idea of mining both these lines and create unpredictable objects. This technique can only be implemented with the help of computerized software due to its little aspects to be taken care of.
Ongoing animations
One of the most effective ways to create dynamic graphics is to include animations in them. It can create some interaction with the viewers. For example, if you animate a graphic in which the image is placed such that the person opens the screen lock for a mobile device, the viewer can come to know about unlocking that device from that graphic.
Also Read: How To Promote Business Online: Best Ways Of 2020
CONCLUSION
From the above discussion, we can come to the conclusion that the year 2020 has been a revolution for the graphics designers and this can be helpful in promotional activities for your business.
Are Looking for the best Graphic Design for your business? If Yes, then you are in the right place. Pixibit Design Studio provides you the best unique and attractive graphic design at a very affordable price.
Having expertise in different fields of graphic design, we provide you the best graphic design and create the brand of your business.
Here are some of our Expertise fields:
These are some of our expertise, we provide all type of Graphic Design.
For more information contact us at pixibitdesign.com
Thank You!