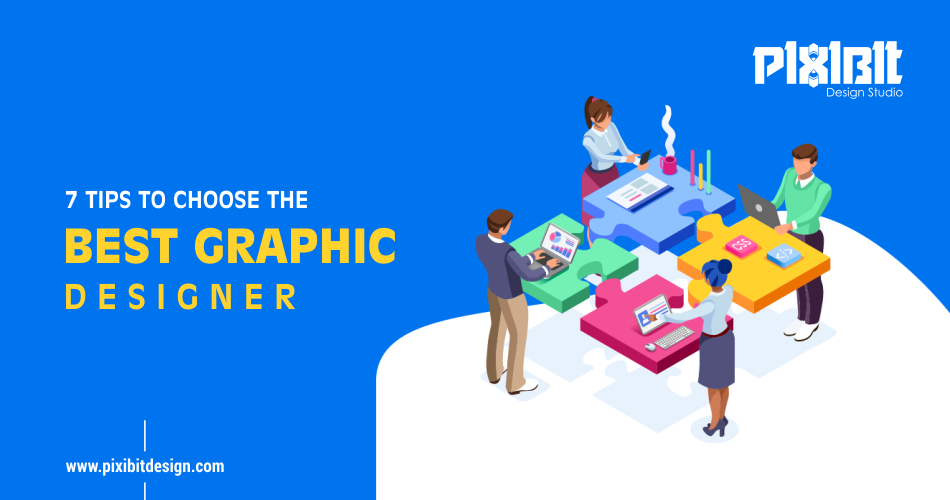 7 Tips to choose a Best Graphic Designer
Graphic Designing is one of the fastest-growing opportunities for all the creative aspirants out there. As things are turning more towards the digital ground, the need for a good designer who can create unique ideas and designs in most effective ways is increasing exponentially. Thus this in reverse increases the demand of all kinds of designers like logo designers, web designers, template designers, etc.. and this list goes on. Companies are not only hiring an offline designer on a permanent basis but also they are hiring from online platforms on a project basis. Now as the demand for a good graphic designer is high in the market, there are many choices for a company, a large pool of designers is there in the market and the company needs to select the best fit for their tasks.
As this demand and supply go on and on, it becomes difficult for the company to choose the best graphic designers. Thus a company needs to remain conscious of choosing best graphic designers as a company is judged by the way in which they represent themselves and graphics are the best way in which a company can represent itself on the digital platforms. Their are a few points that a company can keep in mind while choosing a graphic designer for their task but before discussing that let us first see what is actually a role of a graphic designer.
Read Also: Create High-Quality Brochure Design For Your Products
Roles of a Graphic Designer
A Graphic Designer is a person who creates computer visual designs related to any idea or a particular theme of the company for brochure, magazines, web pages, advertisements, and lot more. Thus graphic designer is the person in which a company heirs to design their ideas according to their needs. Companies invest in them because they create visual content that is the content most accepted by the people from all other modes of communicating ideas.
7 qualities that are the identification of a good graphic designer.
Graphic Designer need to be good at visualizing things.
Graphic Designing is the job in which you express your ideas or ideas of the company you are working for in the form of pictures or graphics. Ideas are always in the form of a thought. Thus it is the job of a graphic designer to put those ideas of thinkers of the company in the form of pictures and their comes the quality of visualizing things and being able to put them out on paper or computer software.
Need to be good imaginary.
Imagination is the most important thing for any Graphic Designer. Being a designer is a job of creativity. If you are into this field then being good at imagination is a mandatory thing. Ideas are to be portrayed on the screen or a paper, thus it is necessary that you develop a very good imagination power in yourself. If a company chooses a person who is good at imagining things then it would be easy for the company to relate to the ideas and thinking process of their consumers.
Also Read: Importance Of Having Unique Logo Of Brand
Good hands-on skills for computer software
Graphic Designers most of the times uses the online available software and tools available for designing a perfect image or picture. Thus if a company is going to choose someone who has good hands-on experience for all these kind of tasks then the company would be a the benefit and then would be able to produce more efficient work for their consumers.
Graphic Designers need to be more creative.
Designing as discussed earlier is a job of creativity. Thus it becomes mandatory for any company to choose someone who is personally more creative in creating designs and pictures. If a company chooses a person who is more creative compared to other in-market then would have benefit of attracting more consumers as compared to their competitors.
Graphic Designer need to be aware of market trends.
Remaining aware of market trends is an important part of any business. If a company heirs someone who is good in understanding and predicting market trends, then the company would have far more vision of what kind of designs would last long in the market and what kind of designs can attract more customers towards their company. Thus the company now only need to work on their idea and graphic designers would promote their work though pictures and stories in the form of brochures and advertisements. This decreases the efforts of people working in back end of the company and still would get more clients and consumers to the company.
These people need to be a good communicator
Creating an advertisement, a brochure designs for cards, magazines are all one way of telling a story. A story that represents your company, services or products created by the company. If a company heirs someone who is good at expressing and communicating his/her ideas, then he/she would be efficient enough to make people understand the whole story of the company and hence would be able to create space for company or business in heart of their consumers and clients. If they are good at communicating their idea through pictures or small advertises then they would be eligible to speak out directly to the hearts of people related to their company and creates a bond of trust among them.
They should be good at finding a balance
Putting whole content in the form of art is an art in itself. Sometimes in doing it more perfectly, we might overdo designs and that makes them look weird at a glance. Thus it is necessary that a perfect graphic designer know what should be placed at what place and maintain balance among the colors, texts, cartoons (if any), characters (if it's advertising or brochure), etc..
Thus above were the few qualities that a company needs to keep an eye on while choosing a graphic designer for the business.