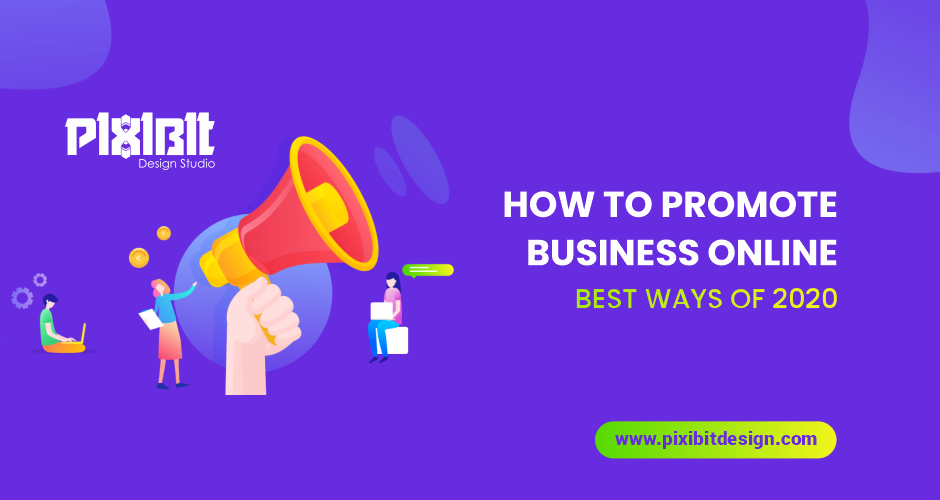 How to Promote Business Online: Best ways of 2020
The promotion of a company's products is the most important process in a company to gain its customers. This importance is better understood by the owner of any start-up company, rather than the owner of a fully developed large-sized organization. If you want your leads to be customers, then the only mandatory thing is they should be aware of your company and its products.
Then only the people might show some interest in it and can think of purchasing the product. The awareness is spread by defining a number of marketing methods.
Hiring employees for a company's team for campaigning purposes, deciding the promotional methodologies, and promote products and deals is the technique that has become old school now. With an increase in the use of online facilities, especially the online social media platforms, people have now started marketing products by posting a variety of deals, offers, and product details on these platforms and gaining the interest of a large audience.
Online Promotional Strategies To Promote Business Online
With the advancement of various online promotional strategies, the campaigning of a product has become much easier than the conventional method, as you can generate more number of leads online as compared to the conventional offline methodology, in addition to saving time and manual efforts, and ultimately saving the cost for implementation of conventional marketing methods.
With the enhancement in online marketing methodologies, the company owners needn't follow any other strategies for business promotions. Below are the some best online ways for business promotion are given. So check it out for better understanding.
Also, see Logo Redesign Importance And Necessity
Best Online Ways For Business Promotion
Now you may wonder about how to implement these promotion methods to boost up your business online. Below we have listed some of the ways that help in promoting business online.
Let's get a brief on some of these points.
1. Add business in the online business listing services
Google provides business owners with a wonderful platform called "Google My Business".
The platform provides opportunities to register a business with a Google account, fill in the type of your business and the services you provide, address, and other contact details, etc.
And the listing is added to Google My Business. Now if anybody searches the product similar to yours, they will get the details easily so they can contact you. Like this listing service use other online business listing services that will definitely help your business.
2. Develop a dynamic website
A dynamic website is helpful in passing informative knowledge to people, plus educating them about the business.
You can even go with the development of a mobile application, but the passing of details of your product can effectively reach people through a web application as compared to a mobile app or any other online promotions method. Just copy the URL of this website and make it viral to see how you can increment the lead count in a short period.
3. Start replying to the questions asked on the Q&A type of sites.
Platforms like Quora, Reddit, etc. enable users to post their queries and also answer the queries of other users. Build your company's profile here and start replying to the doubts and queries asked that are relatable to your product and show your expertise in the product by doing so.
If not all, the one who had asked the question will surely contact you for more product details if he or she finds your answer up to the mark for the query asked.
4. Become fully active on social media platforms
Many people claim they are too busy to become active on social media platforms. But they are missing the major part that the same social media platform can boost the number of leads generated per day if you start marketing.
Online applications like Facebook have already started promotional functionalities and with a minimum payment, your post can reach up to thousands of people in a single day. Hence, these platforms are not only about sharing memes; you can even start making business also!
5. Create blogs in the name of your business
Start writing about your company, its products, clientele, etc. in a blog and promote it in your contacts. You can also talk about how you can use the latest trends and technologies to enhance the existing products, etc.
This will help in the engagement of more number of people in the company. Platforms like Medium, Blogger, WordPress, etc provides a great opportunity to post your blog online.
6. Create a YouTube channel for your company
Create videos with a "how-to" tag and start educating the audience. Because youtube is one of the best online free videos sharing platforms where millions of users come for serval kinds of needs.
For instance, a software company has a channel on YouTube and the video content it posts on it consists of "how to install a software", "how to use a particular software", "how to choose which OS is better", etc. People are more interested in these types of videos and hence can also know about your company.
7. At the initial stage, give your product for a free trial
To promote your product, sometimes it becomes necessary to give out those products for free. Taking an example of the software, most of the software is available open-source, but for a limited period, for example, the software provides a 30-day free trial or usage and then levies monthly or yearly charges. This helps in creating brand recognition amongst software users.
8. Create an effective e-mail signature
If you are using marketing through email strategies, make sure you design the email signature in such a way that customer would be bound to contact you. Also, use effective CTAs (Call to Action) at the end of every email.
9. Never fail to collect feedback
Once your product is purchased, after a week or two, reach out to the customer who bought it and ask for his valuable feedback. If you receive any negative comments, immediately start working for the improvement of your product.
10. Start using Google Analytics
If your business is listed in Google My Business, enable google analytics in the application to receive the reports of the progress of your business periodically. This might be a helping hand in deciding the upcoming promotional methods for the business and defining the processes for the same.
11. Find out affiliates for your products
Let others earn by selling your products. This is what we call an affiliate marketing strategy or campaigning methodology. People sell your products and in return, earn a relevant commission from the same. This method too helps in generating more leads for our business.
Conclusion
These were some of the steps that can help you in the promotion of your business products in the year 2020. W hope this helps! For such type of more blog post update keep visiting our website.