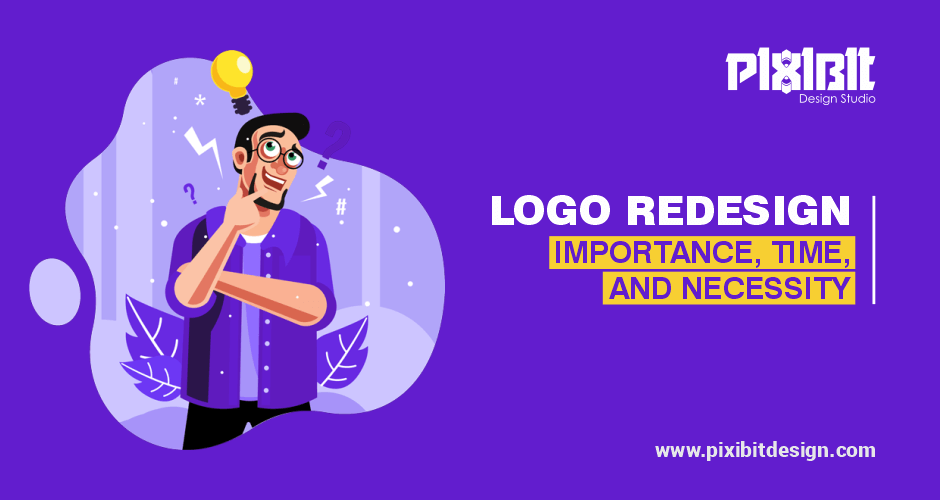 Logo Redesign Importance and Necessity
Logo Redesign: Ultimate Guide
Logos are a graphic art of the visualized realities of a company, truly said. The logo is the main design of any start-up. Design your logo in a way that describes everything about your business that words cannot. So today here is the ultimate guide for a logo redesign.
Logo speaks and deputes more than you any website content. Having a creative logo is making a good impact on your business. If your logo design is old with your new services and features of your website then it will not be worthy. It will not represent your growth. Recently Yahoo updated their iconic logo. Why? Yahoo is a very well established company. We all know that all the professional companies refresh their logo by the time.
Sometimes we have a strong planning, strong execution list but it will not be going to work due to an ineffective logo because an attractive and effective logo reflects your core business value.
Being the best competitor in the business market must check your logo is updated and unique as today's market wants. Keep in mind that your current logo will describe the current identity of your company or any business.
Create your logo with uniqueness, redesign, or refresh your logo by the perfect time and make your business faster towards entire growth.
Importance Of Logo Redesign
If you redesign your old website or recreate the website and your current logo does not match and describe your company's strength, consider rebranding. As I mentioned earlier, your website can not be worth well, if your logo is old. The logo will look cliche and will impact badly on your new elegant website.
If you want your logo to be worthy, your logo needs to redesign before the website design. Here are some points that are very important to the logo redesign of your business.
Brand admiration: new logos with creative and unique designs are being admired in the market. When an old logo looks not more effective and featureless it also loses the attention of the users and customers.
1. Spot your current business
Every new day is coming with new updates in the market. Many businesses update themselves with the latest updates and trends to fulfill the updated marketplace. Likewise, redesign your logo with the latest trend and validation regards your business. Make sure that your logo reflects your current brand.
2. Reflect your first impression
The first impression is the last. The customer trusts your brand due to your logo. A good logo design deputes your professional work that will be used to bring out the customers towards your brand and business.
3. Define the true purpose.
A good logo design is to describe the true meaning of the business. It represents business and market which is trustworthy. It increases business and company from other similar businesses.
4. Bring new customers
Your customers know the many logos of the different companies. They will suddenly find out a good logo design as they see one. So design a good logo that will bring and magnetize many new customers.
5. Stay connected with trends.
Customers always choose to engage with a company that advances and updates. The latest logo design defines that your company is connected with the present world. So, you need to redesign your logo to that convenient to the latest world.
6. Growth of the company
Every business wants the growth of that particular company in the market. The updated website of your business needs the updated logo. If you redesign your company's features you have to redesign your current logo. And also get alert to the customer towards your new brand.
7. Make design suitable for business.
Your logo redesign suits your latest website makes sure that first. You also need to check your logo is perfectly displayed on every platform.
Also, read Digital Marketing vs Traditional Marketing: Ultimate Guide.
The correct time for a logo redesign
A strong logo can create a huge impact on your business. Some companies design the logo once and never revisit it after a year's event. Create a logo in 2000 that will not speak well to customers of 2020.
Here are 5 questions to ask when your logo needs to redesign.
1. Do you want to change or expand your business?
If you want to add new features or services to your business or you want to add more employees to your staff, it may be the time to redesign your current logo.
2. Have you any new competition?
In the industry, you will face some serious competition. You can feel threatened by your business.
3. Are you looking for a new audience?
You can increase your customer base that is loyal but you can more establish your customers. Your new logo will connect with a new audience.
4. Have your brand and vision changed?
Your business grows based on your creativity. If you find your company's vision is not the same as before then it should reflect on your current logo that you can redesign it.
5. Dated logo?
If your logo was created in the '90s then this is the time to redesign your logo. If the design of your logo is probably out-dated then redesign it and make it trendy.
The necessity of logo design
Look around you, logo designs are everywhere. The vision of the logo redesign is to get fast and convenient customer recognition for your business. The logo is the face of any company. Time evolves everything.
Especially technology, if your website needs to be refreshed then you also need a redesign. Nothing stays permanent, not even your logo design. Every customer wants the company they are working with to stay up to date with trends. Especially when your company is old. You will decrease your growth when your competitor updates their logo and you are not.
Customers will find many ways to compare you with other marketers. You will then disappear from the modern and updated market. Make sure that your logo adapts all those changes.
You need to refresh your logo based on social Media's varieties. Here are many companies' examples that have refreshed and redesigned their logo throughout the years. Like IBM, Google, FedEx, Delta, Volkswagen, Target, etc.
Final Words
Basically, Logo Redesign establishes brand recognition, creates a good impression, and makes your business up to date with the latest market. So let's come redesign your logo and make your business trendy. Because logos are the language that speaks a thousand words about your business growth.
For more details and designing the logo visit our site at pixibitdesign.com. we provide you the best and eye-catching logo design for your any sort of business.