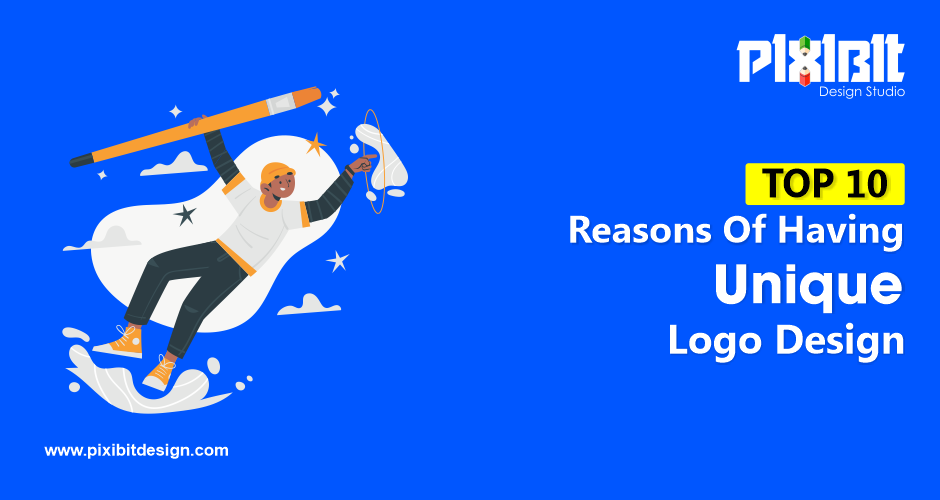 Top 10 reason of having Unique Logo Design
Introduction :
A logo design is the centerpiece of your brand identity and something that most companies, organizations and businesses will use in their identity. Logo or branding is important for a business site. Having a unique logo to represent your brand is very much necessary.
Why is a unique design needed for a company logo?
Unique logo design is something that makes your business or brand stand out. Unique logo design for a business is very important in today's competitive market. Why we need a unique logo design? Well, businesses try to build a logo that will represent their company image and convey the message to their target customers.
Why do you need or want a unique and original logo for your business? When you are about to launch your new business or trying to find the best way to promote your business on the web, you will need a logo design that can be used in many different ways. Your Logo will represent your business in every aspect, from signages, packaging, advertisements and even web designing.
Unique logo design is a very important task for every business or organization. Modern customers are not attracted by the boring styles of ordinary logotypes and banners. Every modern company should have a unique, bright and memorable logo to help it be noticed in a competitive market. Thanks to the Internet and business globalization, sales of goods and services may take place between organizations with different areas of activity on the other side of the world. Prolific companies that want to gain more profit are happy to cooperate with some specific organizations which can guarantee the quality of product or service they offer, as well as its originality, exclusivity and memorability.
Every successful company needs an unforgettable custom logo design. The Internet plays a major role in marketing nowadays. Having a unique logo is a basic necessity for any business which targets higher sales over the Internet.
You're a company that deserves something special. Your customers have come to expect more than a typical logo. Young, appealing and attention-grabbing logo design can make all the difference in your market. A unique visual identity helps customers recognize your business, being sure that you offer them something fresh and memorable.
Also Read: How to Use Design to Stand Out From Your Competitors?
10 benefits of having unique logo design.
Brand Recognition :
Brand recognition is one of the most important criteria for choosing a particular product. Brand recognition is also gauged by the Logo. The unique Logo plays an important role in brand recognition. A logo defines the identity of an organization. It is the symbol of the organization which guides customers in recognition, familiarity, and trust. A well-designed logo design connects with its audience straight away and leaves a lasting impression about the brand on their minds.
The importance of brand logos should not be ignored. A unique business logo helps a company to distinguish itself from its competitors. The Logo acts as a messenger who delivers the message present in the brand. It sends a message about the company and its products/services to the audience. The popular saying goes:"Before you sell me the product, first sell me the brand." This is particularly true today when 80% of buying decisions are influenced by emotions. In fact, according to numerous studies and polls, a brand's Logo is one of the main factors that influence customers during their decision-making process.
Professionalism :
Nowadays, people look at the Logo as the first interaction. The Logo plays a very important role in making your business look professional and trustworthy. It gives an identity to your business. There are a lot of logos which you can see in every business; movies, clothing, restaurants, books etc. Logos are propelling brands to new heights by carrying their message or image across to the public. The most creative logos have been built over the years and have become iconic.
Symbols and shapes are made from many different kinds of materials. Even today's technology is used to create new symbols and shapes. It helps the designers to come up with unique logos which are very hard to copy. Different shapes and symbols are widely used in various kinds of devices, products and many other things.
Stronger first impression :
Over time, logos have been one of the most important ways to build an identity for your company. It lets you stand out from the crowd by putting a name to your business. It tells people what you do, and in the case of popular logos, it has already said much. A creative logo is important to business branding, conveying a custom and memorable brand message.
Invites new customers and make them curious to know more :
A unique business logo creates a different impression on the buyer's mind which increases the chances of successful branding and offers a competitive advantage over other brands in the market.
We all know that a brand's Logo is one of the most powerful tools in establishing its image in the market. However, despite the importance of a logo or brand identity design, creating a logo for the first time can be tricky and requires months of preparation to execute perfectly.
Builds trust in your brand :
A logo is the identity of a business. It tells everything about your brand, be it good or bad. Logo speaks the language and creates an emotional bond with the consumer, so it is important to choose your Logo very carefully because that can go a long way in marketing. The Logo helps you to know your business better. It also mentions what to expect from your business. Is it the best place for your business? Do you provide the best service? How friendly are you with the customers or clients? All these things are written in your business logo.
Builds the persona of your brand :
The Logo of a brand is the mirror that reflects the nature and characteristics of the brand. Business people love to create their business identity for new startups with unique logos as well as creative graphic work services but only one thing in mind: what is a logo all about? A logo is not merely a brand identification; it is the soul of the company business. A great design can speak volumes about your company and its offerings at even a glance. Your Logo should be able to communicate who you are and what you do at just a glance.
A logo is a very important part of branding. It's the identity of a company in the market. Today, logos has become a common trend amongst businesses and individuals too. Logo plays an important role in presenting your business to small or large groups of people and is used to draw the attention of others towards it. Many logos have been made with beautiful designs that go beyond the Logo itself. Well, you don't necessarily have to be a designer or artist to make an appealing logo for your brand or company. Aesthetically pleasing yet simple logos are in demand today. Although most of the time, you would see that even simple logos will cost up to tens of thousands of US dollars, some great ones can be created without any design skills at all.
Creates an emotional attachment and establishes the standard :
A logo is the identity of any brand or company. In short, it's an important factor for a new startup to grow big companies. If you are preparing your business plan, then Logo is the first step of your great journey. Brand Logo is the common factor of identity for any product. A great logo can easily create a lasting impression in the customer's mind & thus proves its worth to be effective in generating huge leads and sales.
Logo creates an emotional bond between a brand and its customers. Take the example of an iPhone. When you talk to someone using iPhone products, you sense the emotional attachment of their consumers with the brand, Apple.
Stand out :
Logo design can turn the regular business into a big brand. It is the heart and soul of the branding process. The key to a successful logo is in the brand strategy behind how well you understand your customer and their behaviour about using your services or products. How unique logos play an important role. Logo can retain awareness like social media companies, Amazon, Ebay etc. They have unique logos, but they are top companies in market share according to Alexa ranking. However, Logo is a very important part of the branding process but not the only factor to consider. In this blog, I will discuss four important factors, which include logo concept, colour scheme, font style and text placement.
The uniqueness in your business promotion is really creating your own identity and branding where your audience and clients easily identify with. The success of any brand or small business depends on the ability to build and establish strong brand loyalty; for this purpose, logo is a new generation marketing tool.
Help your marketing :
A logo helps in marketing. A logo is the face of your company and all about how customers recognize your product or services. A brand like McDonald's is not only successful because they serve good food, but because they have a distinctive logo. A unique and eye-catching logo can distinguish it from others. The Logo is what differentiates a brand from other brands of the same type.
Being a brand, you should want to create a unique logo that might help you in branding. For this, you might need to find the company that can design your Logo. A company is known for its services as they make sure that they deliver quality services to their clients. In today's world, everyone wants their business to be recognized easily, and a logo plays one of the most important roles in it.
Logo is an important marketing factor. Logo grabs the first attention of the customers. Logo represents your company. For example, Coca Cola Company has different logos for each country. It is a big brand in every country. If you do not use a unique logo you will lose the image of your brand company. Unique Logo helps you in building brand image and leadership position in the market.
Builds Brand Loyalty :
Logo has always played a crucial role in marketing a brand. Be it food products, vehicles, consumer goods, fashion accessories or software products, yet every Logo has its own unique meaning and plays an important role in building loyalty with customers for a brand. Logo is basically the name card of a brand. It is the prime identity of the brand. The logo design should evoke positive emotions about the brand and give a smooth feeling of flow. It should be easy to remember and should fit in with the category it belongs to.
A brand logo can be defined as the symbol or emblem used to represent an organization. It is a pictorial representation of the company and its products, which instantly connect it with recognized organizations. The visual perception of a brand brings forth its expectations, values, goals and its overall value proposition in the minds of the customers. Whether for personal or business use, creating a layout that is unique and stands out amongst others has become a popular trend among designers. A good logo design should be appealing.
Also Read: Company Profile Design: Make Powerful Impact Of Your Business
Conclusion of Unique Logo Design
Above were the ten reasons why a company should focus on designing a proper and unique logo that represents their brand irrespective of if they are a small business or a large company. Reading above benefits you might have understood how important is logo for any company or business. 
So if you still don't have attractive logo design for you and searching for the best Logo design company, then you have no need go anywhere, because Pixibit Design Studio is one of the best graphic design company providing the best Logo Design service.
Check out "Our Work" which will show you why to choose us as a Logo design company.
Hope this information is useful for you!
Thank You For Reading!!