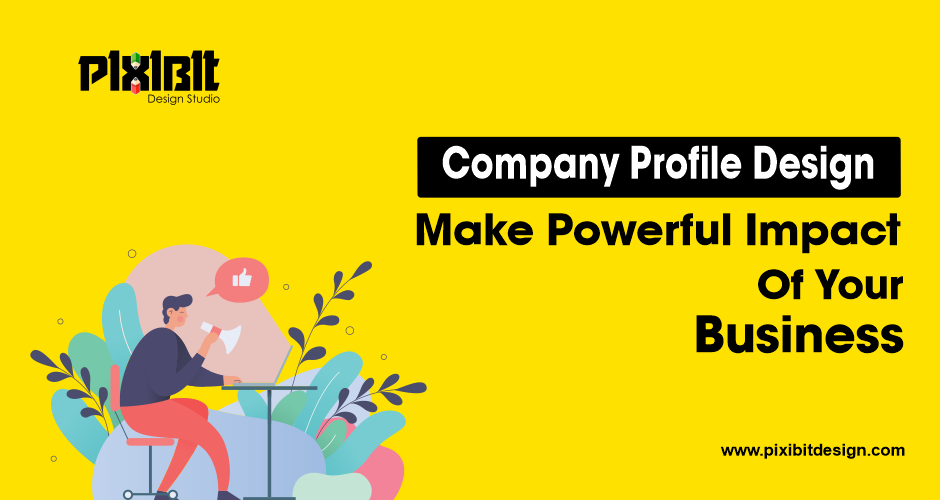 Company Profile Design: Make Powerful Impact Of Your Business
Introduction
A corporate business profile is a brief glance at an organization, helping different categories of individuals to have a basic understanding of what the company's services and products are, its primary audience, its particular capabilities, its past record, and whether it is a decent agency at doing trade with. Apart from listing the information about the organization, the company profile design need to go beyond everything.
This must be efficiently written in order to express the prevailing ideals and organizational ethos that give the company its distinctive personality. Displaying how successful an organization is at satisfying the needs of its partners or customers is often reflected in positive company profiles.
Present and prospective clients are essentially people that view corporate profiles. In fact, customers, service suppliers, corporate associates and career candidates also view and evaluate these problems. For this cause, company profiles on internet platforms, recruiting channels, publicity packages and other external records, news releases, leaflets and online web user profiles on social and technical social media networks such as Facebook and LinkedIn should be streamlined.
Simple detail about the company must be included in a decent corporate sector profile. This shows the year in which the company was founded, the locations, the goods and services it provides, its target clients, its particular strengths and the principles it is dedicated to. Whenever a business has been there for a long time, a quick overview of the prizes it has received, its accomplishments, or the achievements it has attained, will help to create a strong argument for the reliability and appropriateness of the company to engage in business. Finally, contact details must be provided in the portfolio in order to promote communication and input from consumers as well as future collaborators and investors.
Financially attractive profile design has a lot to say about the organization it portrays. Besides the information, design is indeed an important part of building a successful corporate profile. This job is better done to the experts who can present the proposals in production quite well.
What is Company Profile Design?
The company profile is described as a skilled emergence attempting to attract the viewer's interest and briefly informing him about the company. Those are designed to have a potent effect on future investors or customers and to create a good impression.
The company profile, crafted with respect, serves as an occasion for the entity to separate itself from the crowd. These are defined as a summary which attempts to develop the legitimacy of the company in the market.
In reality, a company profile is a description of all of the other interrelated activities of an organization. This is in the form of a declaration explaining essential business knowledge. The business profile is a brand document that represents a variety of purposes.
A business profile is developed for prospective buyers, partners, vendors, financial firms, regulatory authorities and private buyers. The details in the business profile may differ in-depth as it depends on the individual or organization on which it is created.
Most organizations also post a succinct biography onto their sites so that potential stakeholders can make a personal observation of the disclosure.
Also Read: Why Digital Branding Is Useful For Your Business??
The business contains data such as
Name of the firm
Structure of the business
Site of the company
Company contact details

T

he company's email ID
Details of the owner, investors and colleagues of the company
Names of the key officers, leadership team and members of the board
The company's overall market practices
Company operating results
Company's overarching corporate plan, comprising vision, purpose and mission
Services and products sold by a corporation and its rates
Economic details of the organization, including major investments, earnings and revenues;
Past, Current and Projected Success
The company's past
Data on physical, capital and operational capital
Management and company policies;
The company's primary and secondary priorities
Importance of company profile design for your business
A business profile is essential as it assists to define markets for sales statistics and investor engagement. The value of having a strong market profile is illustrated below
The company profile presents an incentive for prospective customers to learn about the firm.
It is necessary to build a strong business profile because it urges a prospective investor to always have close communication with the company's marketing and sales team in which he wants to invest.
A standardized market profile allows prospective buyers to know about the business whether they are shopping for a certain product or service
A company profile provides a business enterprise with multiple opportunities for expansion.
The company profile will serve as a blueprint for running a successful business once appropriately calibrated.
The relevance of a market profile would be that it provides a general understanding of all its related data, such as capabilities, target audience, commodities/services, and a strong reputation.
Also Read: How to Design a Stunning Brochure?
Conclusion
Financially attractive Company profile design has a lot to say about the organization it portrays. Besides the information, design is indeed an important part of building a successful corporate profile. This job is better done to the experts who can present the proposals in production quite well.
This is how important is profile design for your company. So if still haven't designed your company profile visit us at Company Profile Design to design Unique and Attractive company profile for your company at affordable price.
Don't Hesitate  To Contact Us!!
Thank You For Reading!!