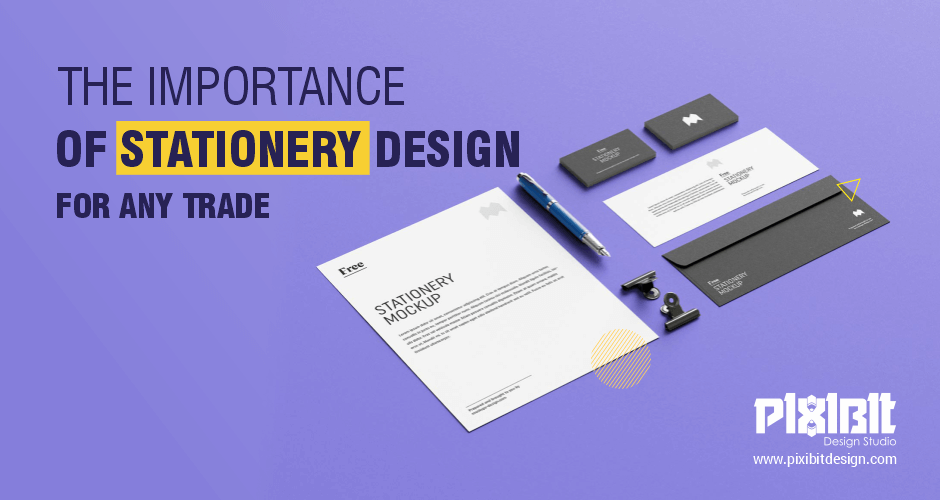 The importance of Stationery Design for any trade
With this graphic design blog, we are going to share about the importance of stationery design for any trade. Trading is a crucial thing to manage. It requires management of time, management of the resource, management of labor resource if it's international trading then legal aspects, boundary rules, and much more. After all these efforts returns are not guaranteed. Thus it is necessary for any trader to think about how can they improve bit by bit in every aspect.
This small bit by bit improvement adds up to a big major output from the whole trade system. Among all the aspects a trader must keep in mind while taking major steps, one is the stationery design. To know how stationery design affects a trade model and it's importance, it is necessary for us to learn what actually trade design is and how it is useful for any business.
Also, read about The Value Of Company Profile Design.
What Is Stationery Design?
Stationery is a broad term that encompasses business cards, envelopes, letterheads, labels, postcards, flyers, brochures, and other similar marketing emissaries. All of which, when designed professionally, can prove pivotal in making your brand shine.
Every business owner understands that stationery is an essential component of every branding strategy. It conveys a personal, more intimate image of a brand and makes customers feel more valued than digital advertisements.
Digital advertisements have their pros and cons. Still in today's fast era as well many people in remote areas do not have access to the internet. This then in return decreases the reach of a brand using the digital mode to reach out to their targeted audience. On the other hand we by using digital media a brand can reach it's targeted audience with little less cost as compared to offline mode. After all these pros and cons of the digital advertising mode still companies use Stationery Designing.
Whether you're sending a friendly letter to one of your clients or distributing your business card in a seminar, your stationery design should stand out and leave a lasting impression. The right stationery design requires a lot of forethought and deliberation. Thus in a various way stationery design are important for any trade/business.
Also, see the Role Of Creative Brochure Design For Product Marketing.
How it can be useful for Trade or Business?
Stationery designs are still in use as many brands want to reach out to smaller and less developed parts of the country because that is the place were a lot of future development exists. Almost 500 million people in India are yet to start using the internet in the next five years, hence there are a lot of many chances of online demands going up and up but for now, to reach people in small and remote areas only options brands have is to use stationery designs.
Main Benefits Of Using Stationery Designs Are Listed Below
1. Enables non-intrusive presence
Using stationery designs helps brands maintain their presence in a very calm manner. Sometimes overdoing things makes it irritating for clients or customers. Thus it is necessary to maintain a simple and sober vibe of the company on digital as well as offline platforms.
2. It's highly Visible
Using such kind of designs help grab the attention of potential clients. When you use branded stationery, you have that visibility granted, as your brand is literally right there on the office supplies and communications they use or receive from you.
3. It projects professionalism as well as engages people
It helps brand show their creativity by engaging people on their content through eye-catching designs and at the same time it shows the professionalism of the brand.
Conclusion
This is all about the importance of stationery design for any trade. We hope you learn this thing easily without getting any difficulty. And if you have any queries or requirements of graphic designing then you can contact us anytime.
For the new and attractive design of stationery design at low rates then the market visits our site pixibitdesign.com and has all the details and information related to stationery design.