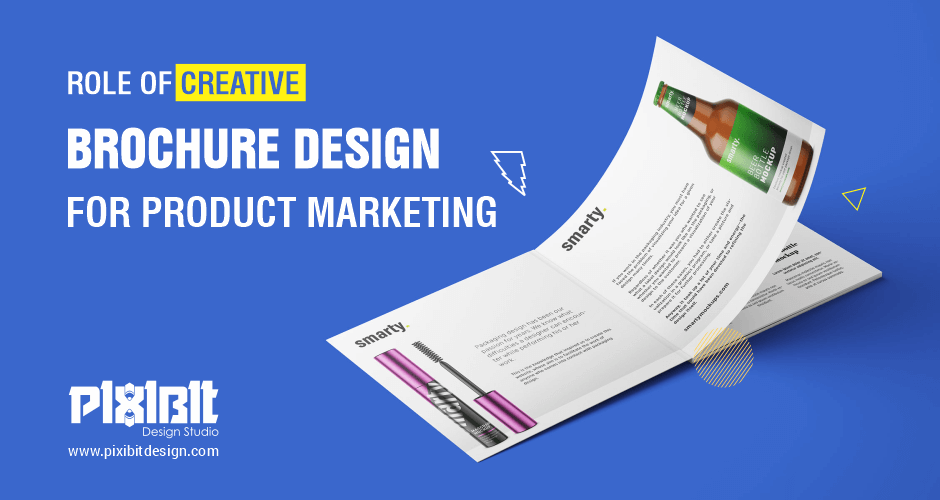 Role of Creative Brochure Design for Product Marketing
Are you planning to launch a new product on the market? Or have you started a new product? If yes, you might also be planning to reach out to the customers through various marketing strategies. Which of the marketing strategies would you like to follow? E-mails, Cold calls, SMS, paid advertisements on social media platforms, newspaper ads, or counseling face to face? You know what, applying these strategies for your product marketing will help you, but for a shorter period. What if the promotional e-mail you sent is received as a spam mail? No one will even care to open it.
What if the call you made to a lead to promote a product and that he answers he is busy right now and will talk later? Are you sure he will remember that he needs to speak to you for some newly launched product? Also, all the promotional SMS are never read and deleted at once straight after seeing who the sender is.
Suppose a lead is surfing its Facebook news feed and your sponsored paid advertisement appears, will it click on that link ad see the details of your product unless he is interested in it? Also, newspaper ads are the oldest way of marketing your products as nowadays newspapers are replaced by the mobile applications of the news houses.
Again, you need a prior appointment for selling your product face to face, which is hard to get. Here my point of discussion is that these marketing strategies are only useful when your target leads are interested in it. Still, the disadvantage is that the information regarding your product will soon fade away as the leads might get distracted by some other products.
Also, Read This 7 Tips To Choose a Best Graphic Designer
Best Solution For Product Marketing
The solution to this disadvantage is designing a brochure. Designing a creative brochure and presenting it to the leads may levy an impressive mark of the product. As it is said, a picture can express more than words. The same thing applies over here. People like to see beautiful things, and it easily captures their minds. So, designing a creative brochure helps draw the attention of the leads and hence can stay in their minds for a more extended period.
Take the example of a construction company. Whenever a lead visits a complex or an apartment, they hand over a brochure to them that contains the company's information, details about the project they are interested in, may also include the blueprint for the flat or office, etc. Why do they do this?
Also, it costs much amount to design these types of brochures. Why are they spending over it when they can quickly contact the lead to visit the site multiple times so that he can remember the flat or office and don't get distracted in another place? The answer to this is the creative pictures of the brochure. This would capture the lead's mind, and also it would be helpful for a point further and does not need to visit the site multiple times. It might also be possible that he makes a deal with that construction company. This is the effect of creative brochure designing.
Role Of Brochure In Marketing
Hence let's have a look at the role of a brochure in any successful marketing.
It is affordable
Designing a brochure is an affordable solution for marketing, as its printing costs are not much high. Hence, printing them in bulk and distributing it to the leads can be more comfortable and less expensive.
Attractive
Designing attractive brochures captures the lead's mind and attracts him towards the product.
Contains information
The brochure contains the necessary information about the product, which is always customer-centric, i.e., keeping in mind the customer's needs. For example, highlight the discount given for early bird registration.
Effective
The brochures are designed, keeping the target audience in mind. If the viewers are meant to be students, then the design might contain pictures of books, pens, and paper. Similarly, the brochure is designed in that relevant manner if it is intended for automobile products like cars and vehicles. This is effective as it easily attracts the target audiences.
Effective Brochure Design Tips
Due to the above given properties, the brochures are highly used for marketing the products in a business. Now let's discuss the tips for an effective brochure design.
Know your target audience: As discussed above, your design should be relevant to your target audience. For marketing about a new restaurant, you should not keep cars and bikes as a brochure design.
Make it attractive to get attention: Your brochure should not be covered with only words and phrases. Pictorial representation of a folder also plays an active role in gaining people's attention and prompts them to know more about the product.
Please don't put any downloaded images from the internet: We all know that the internet is an ocean of information. We can download any picture from any website. But these are copyrighted images, and hence we should not use it for marketing our products. Also, our audience is smart enough to distinguish between the custom made design and readily available downloaded image. Hence always opt for custom graphics for your brochure design.
Choose your caption wisely: The phrase that is used for highlighting the product should be catchy and simple. People should not get confused while reading the tag line or the caption of the product.
Please give it a professional look: As discussed above, design the brochure that is relevant to your product. In addition to it, please give it some professional look instead of casual themes. The folder should have a simple but expressive professional design.
List product benefits shortly: Don't elaborate on the benefits of the product in the brochure. Let the sales team do this job. Just summarize the benefits point-wise, and each point must contain a maximum of 5 to 6 words.
Make it readable: Choose the fonts and the background colors or images such that the text written on it is easily legible. If one finds it hard to read, it will not create a positive impression on the customer's mind.
Provide contact information: At the end of the brochure, provide all sorts of contact details from where the customer can reach you easily. Be it address, phone number, e-mail id, fax, social media links, etc., provide it all.
Last Verdicts
Hence, these are the things to keep in mind while designing a brochure, and therefore you will have excellent marketing experience with flyers. And thus we can say that advertisements play an essential role in attracting leads for a business.