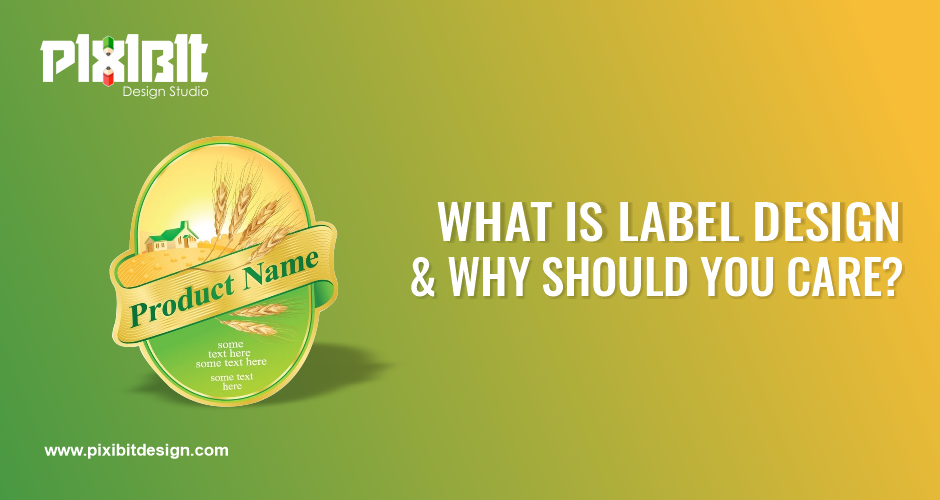 What is Label Design & why should do you care?
Introduction :
Have you ever wondered what label design is? It might be easy for you to just shrug your shoulders and say something like: "it's printing on a label, and isn't that obvious?" Well if it is obvious, do you know how to label design yourself? Or do you need help understanding how labels should be designed?
Label design is more than just a random label that appears on a product. Label design is the concept or ideas behind the design of the label.
Label design is a complex subject, but I'm going to make it easy for you. All you need to know is as basic as the ABCs! Label design can be defined in three letters – WOW. Yes, that's right – label design should always wow your customers. Let's go a little deeper into this term and everything it entails.
What is Label Design?
Label design is the creation of artwork used on labels, packaging or point of purchase displays. Label artwork may consist of images, copy or logos. The label art is used in industries such as food and beverage, home and garden, healthcare, pet care, etc. Label artists are considered graphic artists because they are using pictures and words to convey a message about the product on the label.
Label design is more than a label, it's an experience. The product you hold in your hand, the package you see on a shelf or online, and the way you interact with it, is all part of your experience. Finding the most perfect label design can deliver the next level of impact and functionality to your product.
It's more than just a random label that appears on a product. Label design is the concept or ideas behind the design of the label. This goes beyond what you can see and read. Label design is the concept or idea behind the label and packaging of your product.
It encapsulates the association and meaning behind the label text. It's what consumers actually see and read. Next time you're at a supermarket look for labels, then consider what it says about the product.
You may think label design is just a glance at the product. You would be far from the truth as it goes beyond the pictures and fancy words. More written content is added to improve visibility that engages customers with more benefits. If you want to be relevant in a market today, consumers demand more information.
Label design is a fundamental part of the packaging that maximizes shelf appeal. Package labels play an important role in attracting attention and converting potential customers. Label design provides clear information about the product and creates a lasting impression on the consumer.
It's critical for providing vital information, increasing brand awareness, increasing sales, helping with marketing efforts, and promoting customer satisfaction.
You may think label design is as simple as a picture or two with some words. A modern label has many more moving parts than that – and it's a lot more fun to listen to! This video will explain what information you'll find on the label, and why it matters.
Labels have evolved, growing from the mere label style into a powerful marketing tool. It's all about getting customers to take notice of your product and making sure they aren't mistaken for someone else's. Label design is a form of art that allows you to get closer to consumers and gives you a creative outlet to get more business through an interesting design.
Also Read: Top 10 Tips for Building your brand with Packaging Design
A simple but effective design choice, label printing is an important feature of the packaging design process. Label printing allows for products and brands to be clearly identified on store shelves, making it easier for customers to access information and thereby making your clients more likely to buy.
Label design defines the look and feel of the product as well as the way customers will perceive your brand. You want a label that highlights the quality, durability, and ease of use of your product to really stand out in a busy market.
It is very important that your label design is on point. A product's label design has to be striking, memorable and should be able to capture the attention of your target market and take them through a journey each time they see it.
Your brand is more than just a logo. A label design is a tool that helps you enter into the minds of your consumers. By the time you choose a label design for your products, you have already generated a great deal of interest in your brand. Your job right now is to sustain that awareness and keep it alive.
Importance of Label Design for your product
While label design is something you often take for granted, It's much more than the picture and fancy words on the front of the package. Brands are using innovative Label Design to get your attention with engaging visual design and impactful messaging.
Do you want to sell more stuff? Of course, you do! That's why you need a tool that will allow you to display all the information your customers need on your labels—the ones they find most important—through engaging, popular graphics and colours.
Let the Label Design Tool help you ensure that you have a label that will generate sales. It's a quick and easy platform for creating top-quality labels which include your logo, address, phone number, and all other information.
With Label Design, you can create custom labels for all your products. Label Design can help you promote your business and generate sales. It's a great little platform for creating personalised labels which include your logo, address, phone number etc.
Label design might not be a big deal for most people, but those in the food industry need to take it really seriously. The design of a label is like creating brand recognition. It is an essential marketing tool that is commonly ignored or overlooked by many food companies and manufacturers.
The design of a label is not just for marketing purposes, but you can use it to make your product more attractive and diverting. Label design is now one of the key ways to differentiate your brand from the rest. Label design isn't just about aesthetics. It is the first thing that makes your customers aware that you care about the product and your business.
Label design is very important from a marketing point of view. It helps people to understand the use of a product and makes the brand image ornamental and attractive. Label design can enhance consumers visually about the perfect product. Every designer loves to work on label designing because it looks like the easiest task but its difficulty lies in selecting the right colours, fonts, typefaces and images.
Label design basically plays a role in capturing consumer's attention towards the product and its usage when they visit your store or supermarket. While creating label design you need to follow some main points like the placement of elements, readability, brand differentiation, easy identification etc.
Label design is one of the basics of packaging to maximize the shelf appeal. Package labels play an important role in attracting attention towards products, label design is used for the identity of product packages. Labels provide correct information regarding products such as ingredients, manufacturing and expiry date.
Label designing is not rocket science but involves some simple thing to grab the consumer's eye and convert them into potential customers. Labels can give a clear message about the product from which customers can decide whether they should buy the product or not. Good label design attracts consumers towards it.
It promotes brand building, high retail sales and greater customer satisfaction. It's a necessary part of the business while marketing products and any kind of service. Label printing services may fulfil your needs for professional marketing and fresh ideas.
Label design is the most intricate and important task to be performed on an apparel clothing label. A poorly designed label can make a customer avoid buying your garment, and other items that you may have to offer in your store. Your customers could confuse your brand image with another brand or think that it's a fake product, because of the presentation of the label.
Labelling is an important aspect of packaging that increases the shelf appeal. A label acts as a mark of the identity of products. It's often used to inform consumers about vital product information such as ingredients, manufacturing, and expiration dates.
Label design can give a clear image of your product from which potential customers can determine whether to buy the product or not. Good label design increases retail sales & customer satisfaction while promoting your brand.
Conclusion :
The design has been the most responsible for any industrial revolution. In addition to the products, there is something about how they're marketed that impacts us so much. Label design is one of those factors. It can determine the fate of a product, as well as its overall scope in the market.
The purpose of the Label Design originated from a need for clear communication among people and objects. Label design is important due to the advantages it brings to businesses and consumers. The human brain needs labels as illustrations to map the world around us.
If you use labels on your products, then you must care about the purpose it has on the value of your product. When we talk about designing labels, it could mean a lot of things to you. It could be designing custom labels, designing wine labels, designing bottle labels and so on.
The label is not just used for packaging any more. It is also used as a marketing tool and will affect your product greatly. Label design can even help you increase sales in different ways. Take a look at our previous blog post where we talked about why it is important to do the designs yourself if you want to get the results somewhat similar to what you want.
So if you still haven't thought and designed your product label then don't waste your time and Contact Pixibit Design Studio one of the leading Graphic Design Company which master a different field of Graphic Design.
We will provide you with the best Label Design at affordable rates for your product that will make you stand out from other competitors in the market. So just Contact Us for more details.
Hope the information is useful for you.
Thank You For Reading!!