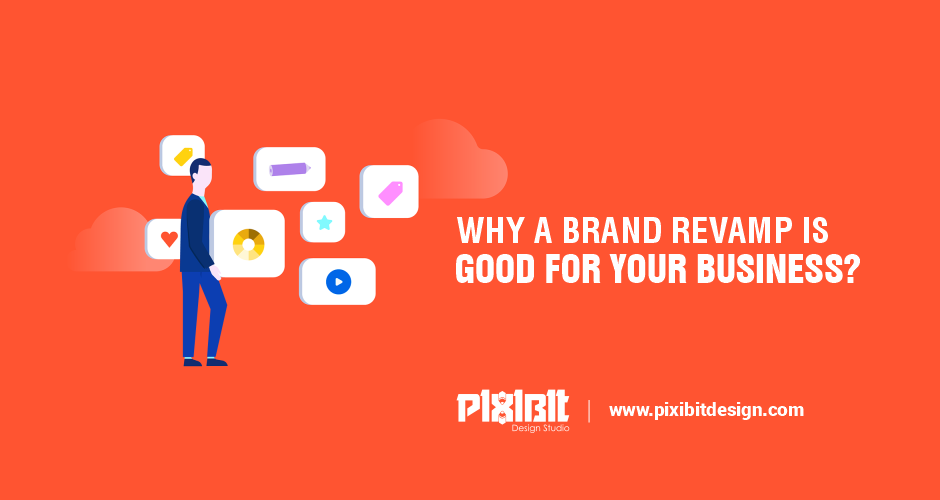 Why A Brand Revamp is Good For Your Business?
Introduction
Brand revamp is the toughest decision for any company. But with the changing world, the companies need their brand revamping.
The market is always evolving, and various new organizations stand out with their innovative strategies. As a result, old or leading businesses evolve and introduce new ideas to improve their sales ratio. As a result, the particular brand uses a brand remodeling strategy to make a significant and good influence on the minds of target customers.
It is a difficult effort for any business to gain the attention of modern generations in specific products for purchase. They'll need the right tactics, packaging, design, and customer service (both after and before buying products), among other things.
Businesses or their marketing and sales teams are always improving their methods for selling products to increase revenues to spread brand awareness.
What is brand revamp?
The term "brand revamp" refers to the process of changing a company's name, design, tagline, logo, packaging, and other elements. The purpose of this is to provide companies a new look for them to stand out in a competitive market.
The companies are rebranded for several reasons. However, many of these typical motives are to reach out to a large number of new customers.
Companies must gain the trust of consumers to buy their services or products to increase their revenues.
Rebranding is advantageous as well as risky for businesses. Because they can change their entire identity by revamping their brand. Customers are not always easily persuaded to work with new companies.
There are two types of brand revamping….
1. Proactive revamping
They are confident in their selections throughout the purposeful restructuring of the companies. They will undoubtedly be able to attract new customers to stay ahead of the competition.
2. Reactive revamping
For businesses, reactive redesigning is a bit riskier. When companies disband or discontinue for various reasons, this kind of revamping occurs. They then want to continue with the new concept, which is why they are rebranding their firms with new names, logos, slogans, strategies, etc.
As a result, redesigning is not easy or simple for businesses; they take a huge risk to give their customers a new look. But, companies can easily perform a successful brand revamp with the right understanding.
Recommended for you: 7 mistakes you should definitely avoid in Logo Design
Why do businesses need a brand to revamp?
Here are some points that can help you understand the perspective of businesses while making a major decision such as rebranding.
1. Gain customer trust
Consumers are an essential lead for every business to achieve success. There are a variety of methods that businesses connect with their customers and advertise their products to help people understand how to use their services.
Customers are attracted to businesses when they find something interesting in companies. Old companies that have been in the market for a long time can struggle to attract new customers. One of the reasons they decided to revamp their brand is because of this. As a result, they can maintain contact with their existing customers while also reaching out to several new ones to grow their earnings.
2. Be trendy with the changing world
Businesses are making major changes, such as redesigning, simply to be more trendy. They simply give their brand a more modern look to make a positive impression on customers' minds.
Businesses have various options to maximize their earnings as a result of minor modifications in the logo and the introduction of a new slogan. Modern touches on their packaging and branding provide the organizations a modern look and help them reach out to people looking for newer products.
3. Spread brand awareness
The most important news for any company or organization is rebranding. As a result of the redesigning, they can reach out to consumers who are still unfamiliar with the companies.
Companies that rebrand can boost brand awareness throughout the industry and increase their sales ratio.
When corporations do not properly plan for the revamping, it might be problematic. However, for any brand to reach new customers, it must change frequently.
4. Fixes the previous mistakes
Companies are distracted from the goal to become the Cathay logo, packaging, tagline, and many other things. As a result, they are unable to attract customers in the approach that they expect.
Deciding to redesign to correct earlier mistakes. Changes in strategies, logo design, packaging, and other factors, as previously mentioned, have a significant impact on the market. In addition, the businesses have various fresh ideas that are more appealing and effective than their competitors.
Now that their brands have been revamped, businesses can correct prior mistakes and consumers can easily identify their products or services.
Strategies for brand revamp
When a company takes a significant step, such as revamping, it must evaluate or follow a process that produces accurate results.
Set the goals, plans, and expectations
Any company must have a clear goal in mind. The majority of businesses are founded to profit from their one-of-a-kind services.
Companies must set their goals, plan, and be clear about their expectations if they want to change their brand or give an impact touch. Rebranding is easier with solid planning, a defined goal, and clear expectations.
Stand out from the crowds
Several companies deal in the same products as well as single industries that manufacture the same products. If a company has been in business for a long time and finds that the sales ratio is decreasing due to the presence of multiple competing StartUp industries, they will enter the market with new ideas.
That is why industries require strategies or a look that allows them to stand out from the crowd and quickly attract new customers to their looks or products.
Focus on the target consumers
When we discuss the market, sales, profits, businesses, or other similar matters, we refer to 'consumers.' Customers are the motivating factor behind enterprises, allowing them to achieve success while making incredible deals.
Companies going on a brand revamp must focus on their target consumers to increase income.
For example, if the children's fruit juice manufacturing businesses decide to rebrand, their target customers will be children. As a result, they modify their identity, trademarks, packaging, and other aspects of their business to attract children.
Brand images should meet the goals
Companies must choose a simple and appealing logo, packaging design, and other elements that are attractive and significant.
Consumers are sometimes confused by flashy graphics design, and as a result, they are distracted from purchasing products. As a result, be sure that modernizing the company's image does not destroy core objectives.
Brand values
Consumers are familiar with a wide range of brands and their products and services. Customers are habituated to using things, and as a result, they can locate specific products at a shopping mall among a variety of similar products.
When such types of successful businesses decide to revamp for a change, they must remember not to lose their identity in the process. Remember that the brand's values are determined by its services or products.
Also Read: 10 Creative Logo Design Ideas to Boost Your Business
Conclusion
Even in these categories, in leading companies or start-up organizations, the changes are significant for the company. However, they must take care not to over-optimize their logo or packaging design, make an impactful slog, avoid using hard sentences, eliminate unnecessary shapes or designs to create attractive designs, etc. By paying attention to the smallest details, businesses can successfully revamp their brands, increase sales and profits, and gain the trust of several new customers.
Contact Us for additional information and to design a logo. For any type of business, we supply you with the greatest and most eye-catching logo design.