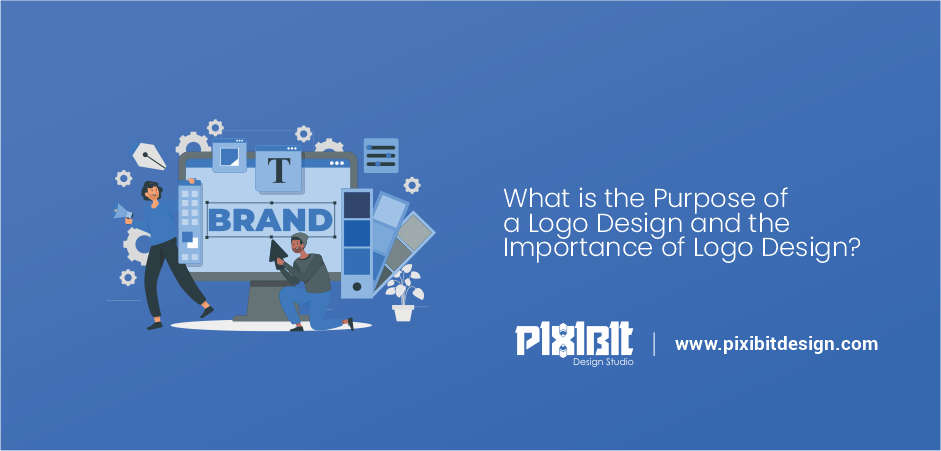 What is the Purpose of a Logo Design and the Importance of Logo Design?
Introduction
A logo design is a symbol of the text and image of your business. In that case, they are a showcase of your brand value. They identify the company image on the market. A good logo will show what the company does and their brand value on the market. A logo design is all about creating a perfect visual brand for a company. A simple logo defines the company name or tagline, which shows what the company does there. But having a great logo will increase their brand value. The logo will grow your business. You can capture a new client to memorize your logo design.
Purpose of Logo Design
Brand Recognition
If you have a logo that identifies the company name or type of business, A logo provides an instant memory in your customer's mind. Simply put, customers recognize your company through shapes and colors. That is a much easier reminder than words. Your logo must be clear about the business because the company sign will be their identity.
However, people across the road recognize your company with a great logo. That will design the working business. It all stands out from the crowd in the marketplace; it is easy to reach and identify your brand. Someone known as per your brand image or logo of your company
Easy approach
Shapes and colors are the most important parts of logo design. A symbol and shape are used to make it easy to communicate with the customer. It's a message for a customer. Whenever you approach any company, you notice their shape and logo. That will increase the value of the market.
Having a logo will make it easy to say something about your company's details. The logo will create a strong impression and be a reliable and secure brand. Great logos will create an organic approach and a friendly brand. It will also create a company's personality and how it wants to be seen by its customers.
Attention and promotion
Also, a logo design will attract the audience toward your company. And they should be built to promote your business. Also, the logo design should be done by professional designers who are willing to take the time to help you and make a logo according to your business.
That designer is high-quality, effective, and advisable for your business. Remember, your logo should catch the attention of your audience. That attractive logo will ensure your company and their customers are connected. Your target audience is connected to your trademark. While someone doesn't know about your company name, they are recognized by your logo and symbol.
Importance of Logo Design
Communicate with the brand
Every business starts with its brand and its brand image. Which are connected with all target people. Your brand image and sign represent your company in public. So, that means people are communicating your symbol. That level will be highly accurate for the connected audience.
Whenever people see your brand image or logo, they relate to that product. When you see a logo that has a history with you, it is associated with that experience and memory.
Influence our brand's face
Even if your company has a typographic logo, that also creates the best brand value for your business. They create a valuable and memorable brand. In the future, people will be known for your symbol and design. If any customers are thinking about your logo design, it must be an exciting, expensive brand, or they can't avoid it. You want to create a logo that will represent your company in the right way.
Also, the logo will give you the right way  and customers will consider it and buy your products.
First impression
When the audience looks at your logo or can't find the design, they are going to start judging your company. For that reason, having an image is the first impression of your company. That will help you grow your business, and it will increase the grant value on the market. If your first impression is good for your customer, that means you created a good design for your business.
When it's a chance to get attractive and impress, you want to go the right way. Because your first impression matters a lot for your business. There must be creativity and innovation in your business.
Increase brand value.
If you have a reliable logo, that will increase your brand value. They are adding your business at a particular level. Which are defined for the company. The key is to hear simplicity. You don't take on a much more specific design for your company. Your attractive logo will be highly rated by your company.
When you understand the logo of your company, you will create a better image of your company that will provide the best brand value. And that is the best aspect for your business company.
Flexibility
So, there are many reasons to have a good logo for their company. They are given flexibility in recognizing company identity. Your logo must be easy to read and understand for your audience. If you create a complex logo, it will be scalable for your business.
If you have a simple and easy logo, it will make it easier to connect with the audience. Or your logo must be adjustable, and whatever medium goes with it
Conclusion
If you want to create a logo, you must understand your requirements for a logo. Also, the logo should be clear and simple to identify with your company. But in a logo design, add a specific color or shape. That will be best for your impression. But your requirements must be clear for your business. That will make both sides attractive and creative. Some audiences are identified by your image or shape rather than the company name. According to me, a logo must say something about your business and who you are. That design always creates a brand identity for your business and products.
Pixibit Design creates the best logo designs. And they are creating something innovative and according to your business. Also, they create a unique logo at an affordable price.