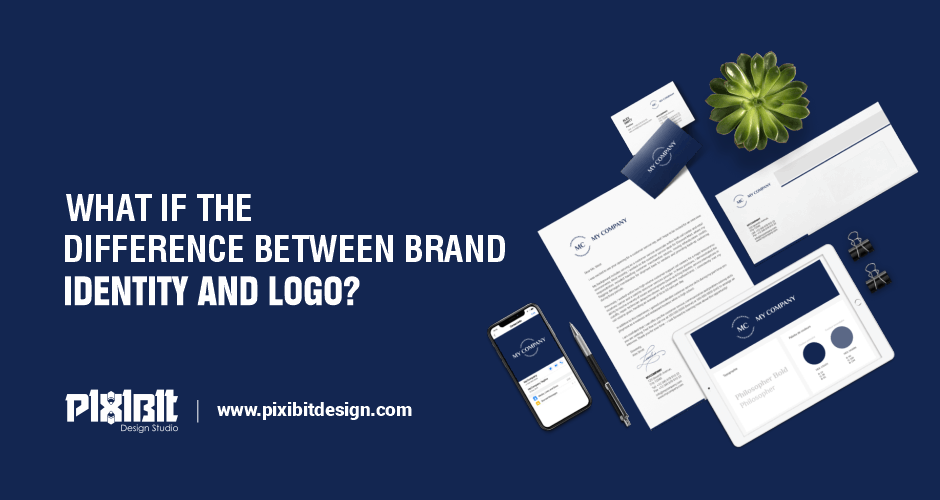 What if the difference between Brand Identity and Logo?
Introduction
Companies perform branding of their product to make customers know about product is. For a specific brand in any niche segment they posses certain set of qualities in product which cannot be found in any other brand. So when customers interact with the brand they feel a sense of quality which they get from the company. This is brand identity.  This is different from logo design.
Brand Identity is a style company has in itself to make a mindset of what kind of products they deliver to customer. It has a lot to do with the context of marketing elements. Like brochure, website, logo design, booklets, etc.  On the other hand company product too posses a style they develop to distinct themselves for the product quality they have.
If you look at logo design it's a part of brand identity. Logo is the simplest identity means used by the company.  With logo the whole company is projected. The design of logo has a value associated with the company. As the company gets famous, by logo itself it gets recognized in the international market. So the value of logo design is much bigger to the company.
If any products say APPLE's iPhone, they have a logo of APPLE. If they change it to something else it may cost a lot of money. Bur why so? An APPLE logo is mark of quality product. It's the mark of the quality service that can be available from the product. So faith of the customer is associated with Logo design of APPLE. If they change the design to something else it can drastically impact its sales.
Now what role of brand identity has in itself? It's the set of colors, pattern, fonts, designing style by which company uses in its physical marketing means. That could be an, even with brochure design customer has made a mind of the quality product company can offer.
If you look at the brochure of Taj Hotel, you can get a set of value associated with its service. Displaying pictures of the service they provide, they try to create a mindset in customers of the value they posses. Taj brochure has displayed pictures of various room, its interiors, and high quality products used inside. A sense of Royalty is created. Just by brochure, company can give their own brand identity to customers. More golden color is used showing premium quality services. This entire brand identity product also has logo design in it.
Let's say now what the difference between logo and brand identity is:
Brand identity posses bigger concept than logo design.
Brand identity is the set of material used with specific design and style to convey an idea of quality they posses. They have in itself as website, brochure, cards, etc. All this are tangible and viewed. Whereas logo is just one item with great value.
Recently Nexus Malls have done new brand identity. Their main motto is to bring promise of having something new every day. They are one of the India's largest retail platforms. There malls are redesign to bring change among employee retails and shop owners. It brings confidence to customers to visit with new arrivals everyday.  Thus concept of brand identity in much huge, carrying people of various groups together. The idea of delivering new everyday leads to more customers and by this more business is made.
Now here if you look at logo design of nexus mall it hasn't changed. It remains same. So in brand identity they have shown a way which brings faith of customers towards giving new product and services.
Similarly if you look at Pizza Hut brand identity, they have core values attached at every stage. From menu, product, service and delivery.  By looking at this, one can get an idea of good quality food, best service taste. From packaging to serviceman. Each of this has carried core values of the company. Best quality of food with great taste. This are the values associated are displayed is brand identity whereas logo is a part of brand identity.

Visual aspects of brand identity verses simplified mode of company identity.
As mentioned earlier, brand identity is a whole big concept. The values which companies have in itself is carried forward in every place from small to big levels. In brand identity the flow is customers in every organizational level. All this can be seen visually in products that they have. The culture which the company has is displayed in the products that they have.
For example Joyalukkas, it's a south Indian jeweler's brand. Most of the design of their product has south Indian touch. So from company point of view they aim to deliver good quality product with finest design. Moreover mode of communication such as websites, logo, and advertisement has the south Indian culture to exhibit. This makes a brand identity more visualized of the type of product they offer.
Customers who are interested in south Indian jewelry will definitely go for Joyalukkas kind of store and one in western fashion will go for some Italian design. So in this way even in foreign countries those who are loyal towards the brand will go for the same company store. As they have faith for the product. Now if you look at the aspect of logo it's more of a simplified way to express compared to brand identity.
Logo is something very basic to the company's identity. Logo itself stands for the company but this does not show more features as of brand identity. Brand identity conveys a message to customers of what they are for where logo stands for, who they are. Brand identity is a kind more action oriented. Whereas log tells people what they are.
Creating perception verses making an identity
Through brand identity company tries to create a perception in the mind of people. They try to convey a message of what kind of service or product they can give to the customer.  There are various aspects in brand identity which leads to effect perception to the people. Company uses this ways to make an impact on customers.
Various color combination used in the material will defiantly have some message associated with it. Like golden color is used for expressing premium quality whereas yellow color is for something new and friendly. If you look at new brand identity of nexus mall they have floral designs with bright colors. This directly impacts the mind of the people. Background light purple color will make a peaceful shopping experience with new items in the malls. This highlights the experience the customers make while shopping. This is a very good technique associated with marketing skills. What kind of material used will definitely have an impact on the customer about what kinds of product or service that can be offered.
For example visiting card with white and golden color, will make a kind of perception to customer about simplicity and quality product or service. Also the material used in it also has an impact on how customer perceives the product or service.  All the above mentioned materials can be touched, but logo is an image to show company identity rather than material or design used to create an impression.
If you look at the logo of Reliance Industries limited. It got a makeover from grey blue to golden color. Golden color depicts that now they are mature company with very good establishment in their sector.
Many items verses Single Identity
In brand identity many items are used to create a perception to the company. Company makes use of different material and also create event to make a perception to customers. Whereas logo it's a single identity with company.
If you go to any luxury hotel and served with basic needs, then there are various items as a part of brand identity associated with it.  Whereas logo is attached with every items of brand identity.  There won't be any brand identity item without the logo of the company.
Conclusion
Brand identity is a whole big concept which company uses to make an impression on the customer. Various types of items are used into it such as visiting cards, brochure, website design, logo etc.  Company aims to create brand identity in order to influence people about the quality and service they can have. This creates a kind of attraction to customers about company products and services. Logo on the other hand makes people know about the establishment of the company. It's the identity that company carries for showing its presence in market. Thus brand identity and logo design are different things that should be confused as same.