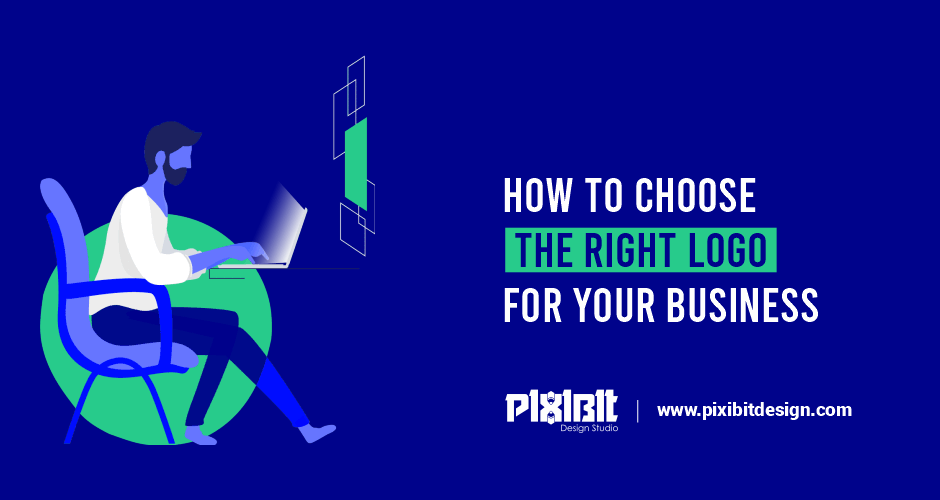 How To Choose The Right Logo For Your Business
The logo represents a company's identity, and with the help of an appealing design, firms may simply communicate their messages.
In the marketing industry, when companies introduce their brand, consumers only remember the products of the brand through the logo. Ultimately, companies must choose an appropriate and appealing design.
That is why graphic designers and business owners do detailed research before creating a logo. Because appealing designs attract a wide range of customers and also express the brand's or products' message or usage.
The business personality is reflected throughout the symbol design as well. That's another reason at all to consider a few essential points before they start designing.
Why is a logo important? 
In today's competitive industry, logos are essential for spreading brand awareness. Imagine this: when a customer goes to the mall to buy something, will they put their trust in products with no logo on the package? – The answer is "NO."
Companies require a symbol via which their brand can be easily identified by consumers among a large number of products to make their products "TrustWorthy."
Furthermore, simply developing a symbol is insufficient; a proper logo is important for any organization.
As a result, before developing the symbols, businesses must consider key factors that will aid in the creation of the right choice.
How do you create a perfect logo?
To easily connect with your audience, a small business symbol must be clear and easy to understand. It's essential to keep your logo simple so that it may be used across many media platforms and at any size.
Unlike large corporations, most small businesses lack a year of brand awareness or a large marketing budget to help customers understand what they do. As a result, any business logo must clearly explain who you are and what you do.
From concept to implementation, there are many things to consider when the companies desire to increase the awareness of the brand. A good small business logo, on the other hand, simply requires three elements: outstanding font, simple colors, and a powerful visual element. 
Also Read: 10 Creative Logo Design Ideas to Boost Your Business
Consider the following points when designing the ideal logo
Any firm or business can create a unique and appealing logo for their products by keeping these five points in mind. Additional appealing symbols help to stand out in the market with a modernized look and maximize sales while communicating with consumers.
1. Select an appropriate font
They must print the suitable font for any logo, even if consumers may easily understand the brand name in their communications while looking at the symbol.
The designer's creative task is to choose the right font for the symbols because businesses must choose a font that will go with their brand and products while still being readable.
As a result, choose the typeface carefully so that the symbol looks appealing and is easy to understand.
2. Be careful to select color
The message is conveyed by the color. There are also various ways for customers to be attracted by the logo's attractive color choices.
Colors can have a variety of meanings. Color psychology is complex, but in a simple put, colors are associated with specific emotions and ideas. They claimed that red is exciting, bold, and youthful. Orange is friendly, cheerful, and self-assured. Yellow is related to warmth, optimism, and clarity. Green symbolizes peace, health, and growth. Blue evokes feelings of dependability, trust, and strength. Purple is imaginative, creative, and wise. And black and white are balanced, neutral, and soothing.
3. Consider Brand Identity
Businesses want logos to convey the personality of their brand. And to do so, they must first understand their brand's core personality. Once they understand what makes them unique and what their brand stands for, it will be much easier to make design decisions that complement and complete that picture.
But if the companies do not convert their message then they are not able to convey to the consumers to purchase the product. So, if the organization wants to convince the consumers to purchase the products and spread their awareness throughout the world then they need to consider their brand identity.   
4. Uniqueness
In a competitive market, several different companies that sell similar products have established themselves. That is why, to increase brand awareness, businesses require a unique design than their competitors.
Organizations must research their competitors' businesses before deciding on a logo design for their brands and products. Unique symbols not only attract customers but also help businesses in making an impression on them. Moreover, the logo's originality is essential for businesses.
5. Select design style
There are several different styles of the logo and for increasing brand awareness they need to select the perfect style which matches the brand.
For example, classic style, retro or vintage, modern and minimalist, fun and quirky, handmade, etc. 
It's time to start converting brands into design now that they have a clear idea of who they are and what they want to achieve. Colors, forms, and visuals, as well as text, all play an essential role in this design. Identifying each component and what it can accomplish for symbols will allow them to handle things one step at a time rather than becoming overwhelmed by the entire design at once.
6. Get connected with designer
After conducting research and establishing a clear brand identity, as well as determining the goals or purpose of the brands, it is time to connect with the designers.
There is no doubt that the businesses' team will come up with an impactful idea for creating their symbols. However, it is also true to have a conversation with a professional graphic designer about design. Because they are connected in the market, they are aware of the latest trends and give the symbol a modern look.
Recommended for you: 7 mistakes you should definitely avoid in Logo Design
Wrapping up
To ensure the desired level of brand awareness and to create a professional identity for the company, the right logo must be chosen. Since the beginning of the blog, we have discussed how the symbols are the brand's identity. Furthermore, they must choose the appropriate logo to raise brand awareness.