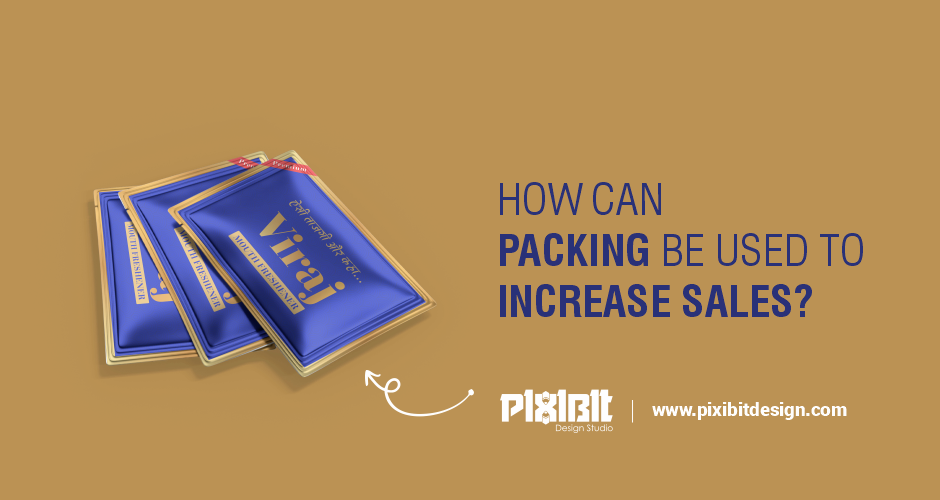 How can package designing be used to increase sales?
Introduction
A stroll in the supermarket can teach a lot many things for marketing executives. The manner in which customers make a decision in buying items can be studied. Households have a way in which they make buying decision. Mainly decision occurs on Price, product quality, quantity and one Package designing. Yes, Package designing plays a very crucial role in purchasing products by customers to increase sales of company.
Why package designing is so important?  Ever wondered that customers will pay more amounts for low quality product? No that can't be true.  But how without knowing what is inside the package they can make themselves know about product quality?  To this some may say it's tested. Yes true.  But a long with it they give importance to package design. If the products are of same quality and taste people tend to buy those which posses attractive package design.
Package design as a whole creates a sense in which they convey an intuition about the type of product inside the package.  Just by looking and taking in hand, a whole concept of quality product can be understood. This technique of making it feel to the customers about what quality product they have should be understood. There are several factors that play an important role. Package designing is most important aspect of marketing product, used by the company.
Sales of the product depend on many factors. Following are important factors which affects the sales of any product:
Quality
Per unit weight
Price per unit
Uniqueness
Popularity
Package design
Availability
Above are important factors for sales of any product. Other factors such as reference by friend etc are also there. But above are main factors that have influence on customers in buying product from the market.
From this if we say about package design, how it can be used to increase sales? For this there are important factors to consider. Package design is a concept used by graphic designers to make the packing look more attractive.
There are various factors they keep in mind while designing package.
Attention
Emotion towards product
Feeling of quality product
Sense of fashion or popularity
Readability of information to input
These are the bases on which graphic designers pay concern while designing a package of any product. We shall elaborate them to know more about its influence in customer's decision making of buying a product.
Attention of package designing
Whenever customer buys any product they make a critical decision as to which product should be selected. For this they first they look at the available items in the market area. Those whose packing is attractive, customer's gets there mind link to it. Attractive packing is responsible to link customers mind towards that product. By this an attention is created by the customers and they hesitate to change their mind to buy other products available in the market.  This attention can only be created by attractive packing design.
Attractive packing design makes customers to place at most position in the mind set of the product. The product will have 1st position in making a decision as to which product to buy. Similarly other options are also available, but the 1st one has its own importance.
Attractive packing design can be created by using various different colors, which are bright and attractive. Pictures based on product can be placed to attract customers. Like for example if you look at the picture of Chocos Packet, you can find a big bowl of chocos with milk and a bear holding it. Yellow color mostly used for kid's attraction is used with cartoon on the center. Kids get direct attention to this.
Companies have use change in packing to attract customers. Parle Company has used this strategy in its business. Like for Parle hide and seek biscuits they have done changes in packing design. This leads to increase in sales. Present package has attractive colors with display of chocolate and choco biscuits. The display picture in the package is so tempting that just by viewing it people make an impression of tasting it. they quickly put one packet in their trolley and later enjoy the taste. So from the package customers get attracted from the attributes that are displayed on them.

Emotion towards a product package designing
One the basic need to put design in the packet is to develop an emotion associated with the product.  Attention makes mind active with thought involved about the product and with the display picture message mind is driven with emotion. Graphic designers try to make this possible in order to enter into mind and that will only make decision to buy the product.
Now if you look at the package of Wingreens Pizza and Pasta sauce package. There product is sauce of pizza and pasta. But instead of sauce picture they have pizza and pasta displayed in to their package. When customers will view this, an emotion of pizza and pasta taste are created. This quickly leads to purchase decision made by the mind. This is a very important aspect of marketing. One needs to get connect with emotions also to make customer buy their product. In packaging we indirectly make customers feel by using the best display picture ever.
Similarly if you look at the picture of Amul cheese package. One can see a dish with lot of cheese served. And there is a girl showing yummy feeling by displaying her tongue for taste. This creates an emotion of taste also we can recall the taste of cheese just by looking at the picture. Emotional side of mind is targeted and sales are increased to make good profit.

Feeling of quality product
Customers always tend to buy good quality product. But how can they feel just by looking and touching it. Well the kind of material used has a great impact in purchasing decision of the customer. Those products that are well package, there are chances that they might get sold more often.
If you compare the packing material used for India gate basmati rice and Normal basmati rice of same quality and price per unit. Then there are huge chances of the sale of India gate basmati rice. This is because when good quality material is used then it creates feeling that the inside product will also be good and reliable. Similarly if you look the package of Britannia rusk toast and compare it with other provider of toast. They have the same price and weight and taste.
The package of britannia rusk toast has smooth surface compared to other toast providers. This leads to more sales in britannia rusk toast. Thus material used in the package has great impact on sales. A good quality material package will always have more preference over others.  Whereas cheap quality material will not be liked by customers and they will switch to some other product.
Customer retention will always occur once they give importance on packing design material used.
Sense of Fashion or Popularity of package designing
We already know that there many ways in which company tries to create package design to increase sales of the product. Many companies apply different strategy in packet design to overcome competition.  This design as so unique that they the first to introduce in the market. No one else has introduced such design before for their products. This uniqueness leads to customer's attraction to buy products. Although the inside product is more or less similar to its competitor. But only and only due to different package design they can increase sales of the product.
This technique is very useful in generating a whole new concept of the product. This creates   space in the mind of customers to make them buy the product. There is one such example of Kinderjoy. Kinder Joy product is basically from Italy. The company which manufactures this product "Ferrero."
There are many chocolates available in the market. Kinder joy product also has similarity with some products but they introduce a whole new concept. They have two chocolate balls inside milk cream and its cost Rs. 45 for each product. On the other side of the product there is a small toy for children's to play.
In the chocolate segment, children's are the main consumers. The decision makers are the parents. This kind of product is new in the market with a fashionable design making is very attractive to the children's. They will always argue with parents to buy that product. One the other hand parents too will buy the product to make the child happy. This strategy is very useful in sales.
There is a whole new product design and innovative idea of small toy leads to increase in sales of the product.  Product becomes popular and based on popularity too the sales will increase compared to other good products available in the market.
Readability based on information available
Package design has some or the other information on it. Information available will be of the product name, company name, and certain trademarks. These are the basic information available in any product with designing. Other information is also available such as taglines, ingredients, nutritional value etc.  This is an important aspect for sales of the product.
The basic product name and company name must be displayed in such a way that customers can easily notice it. For branded products the company's name is of at most importance. Customers have faith in the product quality based on the company. Like if look at the product of Amul Cheese. People have faith in product quality of Amul Company and consumers will buy more product of Amul cheese than any other company. Thus Amul name is enough for selling products. Now if suppose the company name is not displayed properly. To this other products will get highlighted based on different packaging design and sales will get affected.
Conclusion
Packaging has very much importance to increase sales of the product. The type of package design leads to attention of customers. Customers will then go through the information available and tend to buy the product. Even the quality of material used in the package has immense importance in sales of the product. So keeping in mind the above mentioned criteria graphic designers design packages that leads to sales of the product.