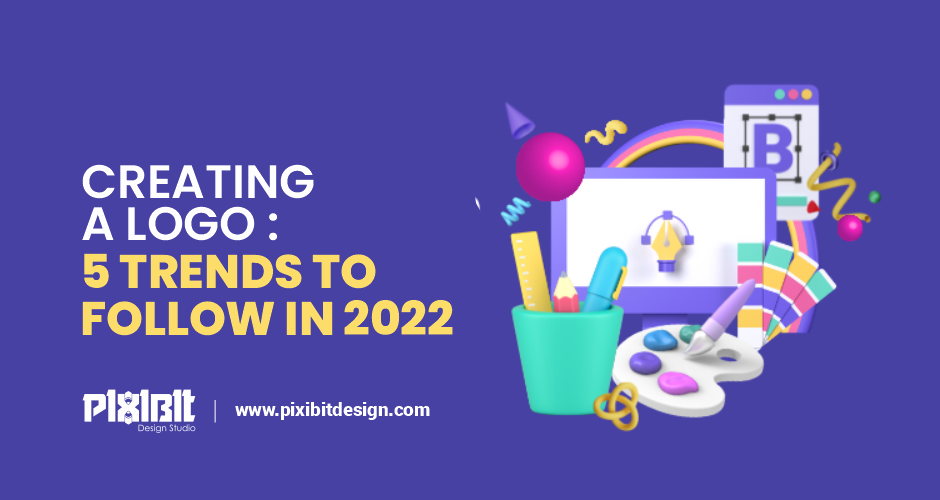 Creating a Logo: 5 Trends to Follow in 2022
New trends exist every day, and today's generation follows too. Even in the corporate world, these changes are having an impact. When they wish to launch a new logo design, they must first analyze the market.
Following the latest trends has a positive impact on the modern generation. As a result, businesses attract several new customers. Furthermore, the modern look of the enterprises gives the message that they are keeping up with the present generation. And this strategy attracts a large number of new customers who are interested in purchasing their products.
Furthermore, logos are another element of a company's identification. Companies must research to establish a symbol that communicates their objective while developing their logo design. They can also stand out in a modernized world.
5 Trends for creating logo follow in 2022
Numerous trends are emerging today to design a unique and eye-catching logo. Here are five trends to follow to develop a symbol in 2022.
1. Characters as symbols 
Color, text, shapes, and images are used to create logos. The company symbols are used to not only identify the company but also to describe its purpose.
In today's society, businesses build logos using only letters. And logo designers are creatively shaping the Characters into a shape. The organization's mission can be easily identified because of its shape.
Designers only employ the latter when following these trends. As a result, the symbols will not be over-optimized and will remain simple but appealing.
The use of letters as symbols to represent the purpose of the company enhances credibility. Furthermore, organizations do not need to utilize a large number of images and shapes to create a logo when using these strategies. Designers may make logos with just a few letters.
2. Stretched and continues lettering 
Organizations create a logo with stretched and continuous lettering for a boundaryless, endless look and feel. The company employs stretched letters to cover the white spaces while implementing the following strategies.
Also, designers do not have to utilize a vast group of shapes and images when creating a logo if they use the following strategies. They can even build brand awareness using simply the letters.
Designers will extend one or a few letters horizontally or vertically. Those letters draw the viewer's attention to themselves for emphasis.
3. Experiment with line 
Designers can now play around with the line of letters. Organizations use this method to give their logos a unique and basic appearance.
They can use the thin and thick lines to change the letter's line. Designers can push the boundaries of their imagination and come up with innovative approaches. They tinker with the language to produce a distinctive and eye-catching logo.
Furthermore, freestyle letters offer the company's identity a more orderly appearance. As a result, they can attract the attention of current consumers. So, tell the designer to play around with the wording and come up with a unique and appealing logo design!
4. Typography takes shape 
So, what exactly is the goal of the logo design? – As previously said, the logo defines the company's identity and describes its purpose.
In this case, typography takes center stage in the trends for producing one-of-a-kind designs. They may carry the typography and create a shape without requiring any additional graphics enhancements.
Designers use typography to create a shape in which they can simply explain their company's purpose or goal. In addition, the logo is designed with the current typeface, giving it an authentic look.
5. Curvy letters 
Why do we write the latter in a straight line in the logo? – Designers can now utilize the curving letter in the year 2022. The logo does this by drawing the viewer's attention to the essential points.
Also, the designer can utilize a few graphic shapes with the curving letters and it will still seem appealing. Even today's age is attracted to businesses that give modern services while maintaining a modest appearance.
Also Read: How to create a logo for your online store?
Conclusion 
A logo is a visual representation of a company's identity that helps it stand out in a crowded market. In today's world, establishing a logo that stands out in the marketplace necessitates adhering to contemporary trends. Because today's youth are willing to go along with the crowd. As a result, trendy design not only assists you in creating a unique logo but also assists you in gaining a variety of customer interests.
Contact us for creating a modernized logo for your companies!