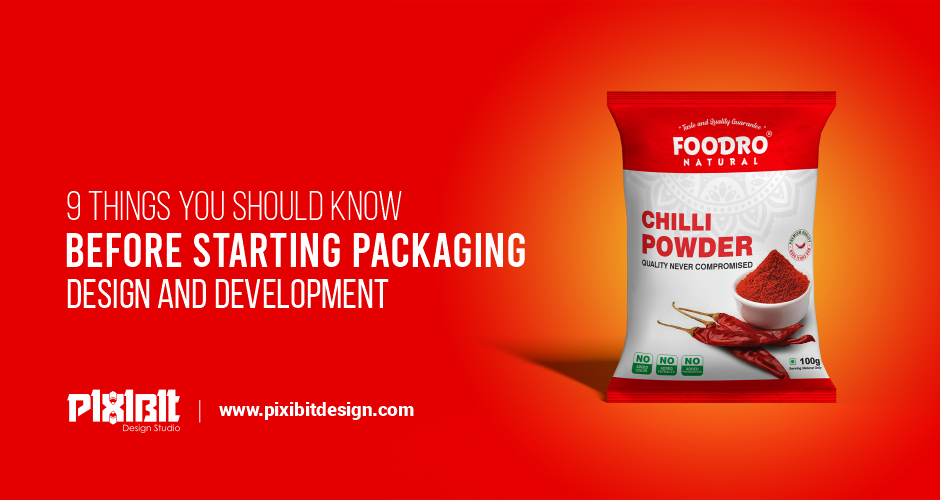 9 Things You Should Know Before Starting Packaging Design and Development
Packaging design is a company's first impression. Companies can convey the purpose of their brand or products with the help of product packaging. In addition, consumers will find it much easier to purchase the product.
If organizations want to launch their first products in a competitive market, they must first focus on their product package and design. Designing packaging is a difficult process since it must stand out from competing companies while also being appropriate for the products.
If a company makes a mistake in the development and design of the wrappers, it will make a negative impact on the minds of the consumers. As a result, businesses want a perfect design for their products.
9 Things to consider before starting packaging design and development
Before beginning packaging design and development, there are a few things to consider.
1. Consider user experiences
The package's design is specially developed to attract customers. As a result, when a company begins to design packaging, it must consider consumer experiences such as good, bad, excitement, uniqueness, etc.
Consumers are essential to succeed in the marketing industry. If organizations want to be successful, they must design products and materials based on user experiences.
2. Know about product
The packaging determines how a product is used, so the packaging should be appropriate for the product. Every product has a unique purpose and application. As a result, businesses require wrappers that describe the product's uses and significance. Consumers can also quickly understand the function of the products by looking at the package.
3. Where is the product going to be sold?
There are various ways for the company to raise product awareness and increase sales ratios today. Companies can now sell their products online while communicating with customers via the internet or social media in the digital marketing sector. As a result, businesses may improve their relationships with both offline and online customers. In short, they can reach consumers all over the world.
So, if a company can distribute its market across numerous platforms, it may create a package customized to each platform. For example, if they send products online, they will require warpers, and if they supply materials to customers who visit the store and purchase items there, they will require wrappers. As a result, they must create many designs for various clients.
4. Decide the budget
Budgets are a critical component of a startup's success. As a result, firms require funds to cover the cost of product packaging. Because there are different types of packages, each of which requires more or less money to develop than the others. As a result, businesses must create a wrapper that is both cost-effective and appealing to customers.
5. Unique from the competitors
Never forget that uniqueness provides companies with winning opportunities when it comes to contacting a large number of customers. The same may be said for package design. Other companies on the market sell similar goods. As a result, designing a wrapper with a similar design is relatively possible.
As a result, uniqueness is taken into account during the packaging design process. Companies must conduct competitive research to create a warping style. Then came up with a unique and appealing design that is attractive. Additionally, in the case of several products, customers can choose specific products from a large number of options based on their uniqueness.
6. The functionality of the packaging
The packaging's functionality has an impact on sales. In addition, each product has a distinct wrapping technique that helps in keeping the products secure or fresh. Furthermore, it attracts more customers to buy products simply because they are usable. That is why packing flexibility is important. Companies can create an appealing and successful package design by considering the functionality of the products.
7. Customer Satisfaction
Customer satisfaction is important to organizations, which is why corporations must consider customer satisfaction while designing wrapping styles. Because some customers purchase things specifically to experience the unboxing process. And businesses want a design that satisfies customers to provide a unique and exciting experience.
8. Testing
Before confirming the packaging design, businesses must be certain that the package is safe. They do this by testing the material of the wrappers they will use. Tasting can be done in a variety of ways, including
Material testing -> This examination determined whether the materials that would be utilized in the packaging are appropriate for the product.
Machine trials -> For package manufacturing, there are a variety of machines available on the market. Companies must make it clear that machinery is used for producing the satisfied solutions that businesses require.
Transit trials -> Manufacturers deal in large orders, which requires wrapping that is both safe and convenient to transport during the transportation of products from one location to another.
As a result, organizations must go through the testing step while designing wrappers, as well as choose the most cost-effective ways.
9. Social Media Appeal
Companies that provide digital marketing platforms require packaging that is appropriate for attracting digital consumers. They'll need an eye-catching style to use while snapping pictures of the packages. Consumers are attracted to buy things by an appealing image of the warping style. As a result, today's packages must have a social media appealing package design.
Also Read: What You Need to Quickly and Easily Outsource Packaging Design
Steps for packaging design and development process
Step 1: Briefing stage
The briefing stage is the first and most important stage in the development of the packages. The marketing team, owners, sales team, and graphic designer can communicate face to face or over the phone during these steps. Following that decision, they develop creative and effective packaging strategies that enable companies to confidently launch their products.
Step 2: Research
Following the briefing stage, businesses have a multitude of packaging ideas. However, they must first research their competitors before deciding on a distinctive style for their products. As a result of the research, organizations can create an appealing and unique design.
Step 3: Designs
The owners' research and imagination for the style of the wrappers were incorporated into the design with the guidance of graphic design. Additionally, businesses must be aware that this design may be converted into a physical design or palace into a digital platform. Also, choose the appropriate shape, images, font, colors, etc. As well as putting everything in the right places to make a package professional, trustworthy, and informative.
Step 4: Bring design into reality
Companies must develop after designing the packaging. The developing phase package manufacturer can use the design provided by the graphics design and develop the packaging by the design. The manufacturer can use the materials and compose the packages according to the design, which is both safe and allows the imagination to come to reality. However, developing companies must be clear about their budget before using raw materials.
Step 5: Reviews
When a startup first launches its products, it needs feedback from the market or users of the products. They only need to develop a few quantities of the package and then bring it to market for a true evaluation. If these processes receive positive feedback, businesses should continue to use this warping style; otherwise, they must make some changes.
Conclusion
Packaging design and development is essential for a startup because it helps to identify the products. That is why companies confirm the warping style of their products. They must think about a few things. This not only helps in the development of an attractive style, but it also helps in the maximizing of sales in a competitive market. Companies increase their revenues while increasing their sales, enabling them to meet their goals and build their identity among a multitude of products.
Get a new, unique, and creative idea for your product's packaging design by contacting us.