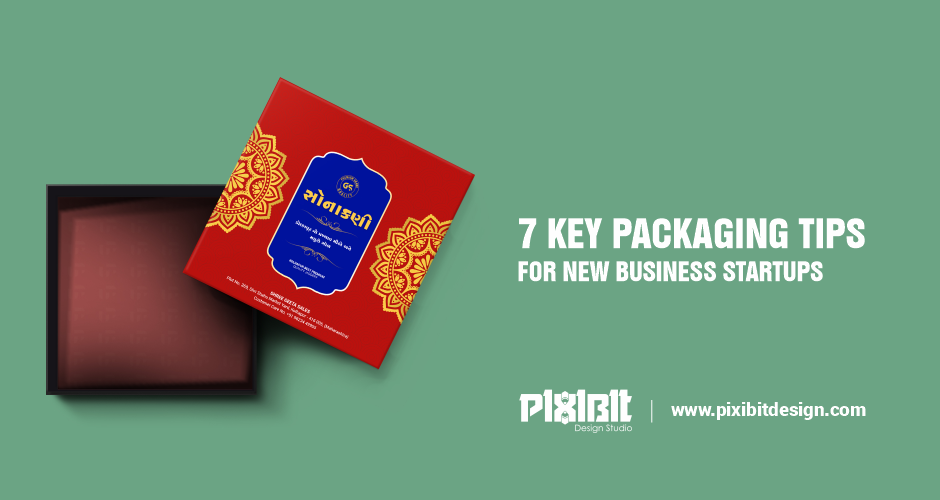 7 Key Packaging Tips for New Business Startups
Introduction 
In the commercial market there are several types of similar products available and in between them, attracting the consumers to purchase the new products is very important for startups. And consumers are firstly attracted to the products with their packaging. 
Packaging differentiates the products from the other products in a crowded place. Additional good packaging can assist businesses in increasing their sales ratio. Even with the guidance of the wrapper, the organization can establish brand awareness.
When startups begin their businesses in a competitive world, they require a cost-effective solution as well as strong marketing strategies to help them increase their revenues.
Businesses that do not focus on package design risk losing consumers' attention away from their products. That is why companies require a good package design.
Why is product packaging important for startups?
Here are some reasons why the design of a product's package is important for startups. They can also increase their productivity and profits by applying these methods.
One of the best marketing strategies
Companies can use several different techniques to create brand awareness. Packaging is one of the marketing strategies used by businesses to increase brand awareness around the world.
Consumers recognize the products through package design, and they can approach to purchase the products if they are attracted and inspired by the decent wrappers.
Maintain product safety
When consumers purchase products for the first time, they might place their trust in them while considering the product wrappers. And if businesses want to keep their customers' trust and convince them to buy their products, again and again, they must ensure that their products are safe.
As a result, when startups design product packaging, they can ensure that the products are safe. As a result, they can design wrappers that are appropriate to the products and ensure their safety.
Help to build a brand identity
Human identity and brand identity are the same concepts. Another reason is their brand identification, which is why products or services are well-known in the market.
As a result, customers can recognize the brand and its products thanks to the package's design. As a result, when companies offer new items, customers can quickly recognize the brand and packaging due to their style and uniqueness.
Attract the consumer for purchasing products
The packaging of the products not only ensures the safety of the products, but it can also attract customers and encourage people to buy the products or services.
Packaging serves as a bridge between businesses and consumers. Furthermore, the wrapping style can tell the story of the company and the purpose of the goods. As a result, packaging serves as a salesman for businesses, communicating with customers and convincing them to purchase the products.
Inform consumers about products usage
The packaging of the product can inform the consumer about the product's usage. As a result, organizations can provide accurate product information.
If customers discover that the information provided is untrustworthy, they will never purchase the same brand service again. And if the information provided is trustable and customers are satisfied with the materials, they will buy products again and again. As a result, make a note to include the information in the product packaging.
Also Read: 7 Things You Should Consider With Your Packaging Design
Important packaging tips for a startups
Because start-up companies are new to the market, they do not have extensive market knowledge. As a result, they must devote all of their efforts to creating the product's packaging.
However, they normally make a few mistakes in the design of the wrapper for their first products, and as a result, they are unable to attract consumers. So, here are a few warping design tips for startups. Companies can create an eye-catching warping design by considering these things.
1. Make Brading Recognized
When startups publish their first products, their products are new to consumers. And these customers are already purchasing comparable materials from the industry's leaders. As a result, to compete, businesses must not only utilize strategies that attract buyers but also create an impression on their minds that allows them to recognize the brand.
The package of the products is one of the best marketing strategies and tools that companies can use to spread their awareness. However, when designing the wrapper, they may overlook the branding in terms of creating an eye-catching warping. As a result, businesses must concentrate on branding for their customers to easily recognize their products.
2. Cost-effective design
A company needs cost-effective designs. Because they can make a loss while creating modernized wrapping designs and safe packaging. As a result, before deciding on a design, they must first decide on a budget and then choose a design that fits within that budget.
If businesses want to increase their profits, they must reduce their costs while increasing their sales ratio. The budget of a startup is extremely important. And for the packaging, effectiveness, and trustworthiness are essential for their warping while keeping budgets in mind.
3. Consider target consumers
Companies sometimes make mistakes when deciding on the warping style for their products. However, they make mistakes in terms of understanding their customers and packaging design. As a result, they were unable to attract the target consumers and therefore failed to make the targeted sale.
As a result, businesses must be clear about their target audience and design the wrapper based on their buyer.
For example, if a company sells children's products, the packaging must be designed with cartoon characters and bright colors. Furthermore, when companies manufacture products for women or men, the wrappers must be designed according to the different categories.
4. Manage the Inventory effectively
Inventory management is an important aspect of running a successful business. Furthermore, the companies effectively manage their inventory with the help of well-packaging.
For example, if a company designs a wrapper for a product that requires a small amount of space, the company can save money on extra rent. Furthermore, when the materials are delivered to their final destination, the low quantity of the box can save the company money. Additionally, well-packaging protects the products, and as a result, businesses reduce recalls.
Companies can increase their profits by lowering their costs. As a result, organizations can concentrate on designing a wrapper that effectively manages inventory.
5. Include Instructions
For any product, there are some restrictions that consumers are aware of. The wrappers contain this type of information in great detail. These details inform the buyer about the product's applications and benefits.
However, if companies do not include detailed information about the goods, they will not be able to gain the trust of customers through wrappers. As a result, including the data is essential for a trustworthy package.
6. Select packaging which protects the products
Their packaging style changed according to the materials, making sure that they are protected. And, for their protection, each material requires a unique style of warping.
As a result, organizations have a wide range of packaging operations such as box packaging, can packaging, bottle packaging, plastics packaging, etc. Then choose a package that will keep the products safe for a long time.
7. Experience while unboxing
A satisfied customer helps in the meeting of several new customers. And, to satisfy customers, businesses must provide the best services possible.
Unboxing is the experience that provides companies with satisfaction. Product unboxing is a joyful and memorable experience for customers. And to provide satisfaction, the company must conduct research on its competitors as well as similar products offered by similar manufacturers. As a result, businesses come up with strategies to provide the best unboxing unique experience.
Also Read: How to Design Effective Food Packaging
Conclusion 
To summarize, if startups want to increase brand awareness and maximize customer ratios, they must first work on their packaging style. The organization can attract buyers by designing appropriate packaging. But first, they must consider the factors listed above. Because uniqueness is important in packaging the wrapper should also be informative and trustworthy with that the consumers are satisfied.
Contact Us to design an attractive packaging design for your products.